Wednesday 18 December 2019 saw the official inauguration of the Antwerp Biobank, a joint UZA/UAntwerp project.

The biobank is invaluable in terms of scientific research and medical progress.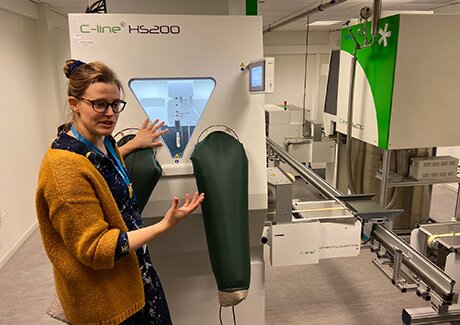 The brand-new Antwerp Biobank processes and stores a wide range of high-quality human bodily material. This may be what's known as residual material, which is any bodily material that remains after a diagnostic examination or medical procedure, but most samples have been prospectively collected for research purposes. In these cases, doctors ask their patients whether they would be willing to donate extra blood samples or other bodily material to science.
"The hospital's Ethics Committee monitors the correct use of this material," explains Johnny Van der Straeten, CEO of UZA. "Thanks to our partnerships, we also receive bodily material from other parts of the country, and even from elsewhere in the world."
Respecting patients' privacy
The samples in the Biobank are only kept and used for scientific research. UZA and UAntwerp actively participate in the continuous improvement of healthcare by conducting scientific research. "Samples of human bodily material are invaluable in this respect," explains Prof. Ronny Blust, Vice-Rector for Research at UAntwerp. "The analysis of bodily material allows us to continue to innovate and develop new techniques and therapies that will benefit patients in the future."
Researchers from all over the world can request samples for their research, subject to approval by the Ethics Committee and/or the Biobank Advisory Council. The samples are extremely valuable. If a scientist wants to unravel the role of a genetic marker in intestinal cancer, for example, they can retrieve tumour tissue donated by patients with that specific gene mutation from the Biobank.
"Of course, the samples are stored with the utmost respect for the privacy of the donors," coordinator Manon Huizing says. "Both the sample data and patient data are stored in an encrypted form. Only authorised researchers can link a given sample to a patient using a code table, so that the patient or their doctor can be informed if there are any incidental findings."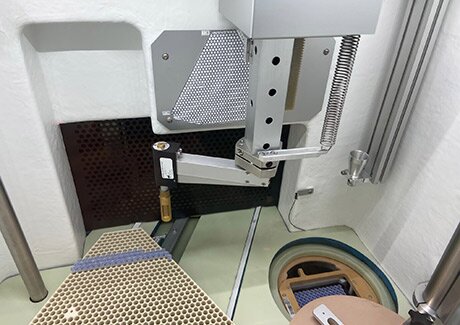 Liquid nitrogen
Storing bodily material is nothing new in Antwerp – many doctors used to store their own samples locally. But as Huizing explains, "the new Biobank enables us to store everything in one place, under optimal conditions. For example, we use a fully automated storage system called Askion, which guarantees that the temperature always stays below -150 °C. The walls of Askion are filled with liquid nitrogen. In the event of a power failure, emergency generators ensure that the temperature is maintained."
Some facts and figures
The coldest freezer has a temperature of -196 °C.
The oldest sample in the Antwerp Biobank is 23 years old.
The samples are stored in 2D-labelled cryotubes of 0.5 to 2 millilitres.
The Antwerp Biobank manages samples from more than 8000 different patients.
All in all, approximately six million samples are currently being stored.
The fully automated Askion storage system can hold up to 150,000 samples in cryogenic storage.