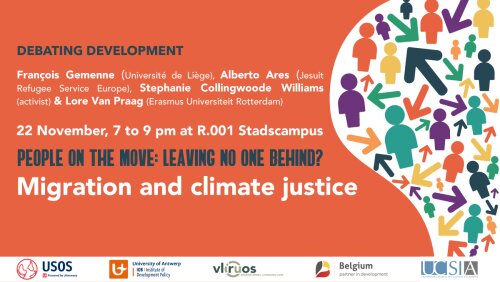 Climate (or environmental) change and disasters have been identified as one of the main drivers of migration, both domestic and international. Indeed, according to the ILO (2021), rapid climatic events directly displace people, while in the case of slow-onset events, climatic variables interact with other key factors, including lack of decent work and employment opportunities in the region of origin, weak governance, population growth, people's aspirations, access to information on employment opportunities in destination countries, etc. The situation would be even worse as climate change projections for the 21st century indicate that even more people are expected to be on the move as climate-related extreme events, such as floods, droughts, and storms, become more frequent and intense (IPCC, 2014; Columbia Climate School, 2021) and as changes in precipitation and temperature patterns impact on livelihoods and human security. Simultaneously, the impacts of climate change trigger dynamics of social inequality and systemic discrimination that researchers and activists in the field lump under the heading of climate justice and intersectionality.
As part of this debate, UCSIA aims to discuss recommendations on measures Europe can take to address the root causes of migration in areas of origin as well as the consequences of environmental migration in areas of destination, including conflict prevention. For action at the European level, the aim will be to re-examine the issue of climate-induced migration in the light of current political and societal debates that bring climate policies and policies on migration and (forced) displacement to the fore (European Union, 2020; IOM, 2021; Council for European Studies, 2022). Informed by such discussions, it will then be discussed how responses to climate change can contribute to social conflict and what policies would ultimately lead to more peaceful climate adaptation and less systemic injustice.
These issues are important in the context of a vacuum in legal frameworks offering protection or formal status to people who are being displaced as a result of climate change. Thus, being "in the midst of an emergency" as Pope Francis declares, the focus should be on the "vulnerability" of "climate refugees" so that it is placed at the centre of current and future responses to environmental migration. Indeed, the most vulnerable people may be those who are unable or unwilling to move (trapped populations) and are likely to be under more pressure to migrate than others (United Nations University, IEHS, 2015).
While proposing ideas to make climate migration less chaotic and more humanitarian, such an approach must recognise that migration in the context of disasters, climate change and environmental degradation is a climate (in) justice reality, and commit to supporting both migrants and non-migrants.
In the light of these political, social, cultural and economic realities that make the climate-migration nexus complex, the following 3 categories of questions will be asked: (1) Questions involving the empirical aspects of climate mobility, (2) Questions related to measures undertaken by the European Union (EU) at the international level, (3) Questions combining the two previous approaches, relating to local communities and highlighting the humanitarian aspect of climate migration.
Programme
19h00 Welcome by Lore Van Praag, senior researcher at the Center for Migration and Intercultural Studies (CeMIS), University of Antwerp
19h10 Lecture by François Gemenne, Researcher at the Geography Department, Université de Liège
How are environmental modifications and human mobility perceived globally? What measures are taken at EU level on climate migration? How do they interact with international regulation and national policies? Which issues are being addressed? What is lacking?How might the EU invest in a better understanding of the drivers of climate migration to inform well-targeted policies?
François Gemenne, is a Belgian political scientist and researcher, professor at the Institut d'études politiques de Paris and director of the Hugo Observatory dedicated to environmental migration at the University of Liège in Belgium. He specialises in environmental and climate migration issues and in policies for adaptation to global warming.

19h40 Panel debate with the keynote speaker and community actors, moderated by Lore Van Praag, Erasmus Universiteit Rotterdam
The panel will address the issue of climate migration from an inclusive world perspective, putting people at the centre and questioning mainstream political and economic solutions to climate change. Based on some concrete case studies (from the field), how might climate events impact people's decisions to move or stay?How can political, societal, and academic actors react to help them cope? How can regional and local level approaches address climate-related migration and inform national and European policy?
Alberto Ares, SJ. (PhD in International Migration and Development Cooperation), former Director of the University Institute for Studies on Migration Studies of the Universidad Pontificia Comillas and current Director of the European Jesuit Refugee Service, is specialized in Social Ethics, obtaining a Licentiate in Sacred Theology from Boston College; and a degree in Economics and Business.
Stephanie Collingwoode Williams is a social worker, anthropologist, trainer, consultant and curator. She has studied Cultural and Social Anthropology in the Netherlands and Belgium, where she has been involved with various climate justice and anti-racist movements.