Squatters in the Capitalist City
AMC144 | WEDNESDAY 14 JULY, 18:15-19:45 CEST
Miguel A. Martínez - Professor of Housing and Urban Sociology IBF (Institute for Housing and Urban Research), Uppsala University | P O Box 514, SE-751 20 Uppsala (Sweden)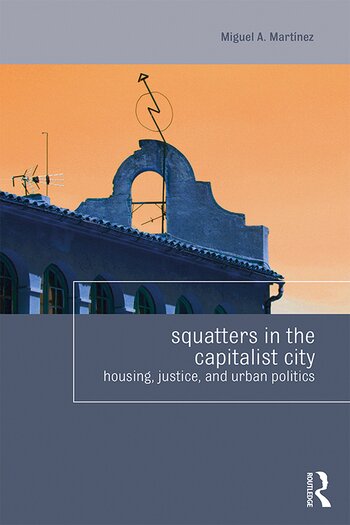 Book to be discussed: Martínez, M. (2020) Squatters in the Capitalist City. New York: Routledge. 

This book provides a comprehensive analysis of the disperse research on the squatters' movement in Europe and presents a critical review of the current research on squatting and of the historical development of the movements in European cities according to their major social, political and spatial dimensions. Comparing cities, contexts, and the achievements of the squatters' movements, this book presents the view that squatting is not simply a set of isolated, illegal and marginal practices, but is a long-lasting urban and transnational movement with significant and broad implications. While intersecting with different housing struggles, squatters face various aspects of urban politics. Squatters in the Capitalist City seeks to understand both the socio-spatial and political conditions favourable to the emergence and development of squatting, and the nature of the interactions between squatters, authorities and property owners by discussing the trajectory, features and limitations of squatting as a potential radicalisation of urban democracy.

This book offers an analysis of the squatters' movements in various European countries and cities by combining my own fieldwork and all the significant evidence collected from others' research. It aims at disclosing similar patterns that transnationally connect these local struggles. It also pursues a clarification of its internal diversity, the limits of its radical politics, and the significant circumstances, processes, and features that defined it as an urban movement. It does not draw a black and white picture. Many squatters promoted collective direct action, self-management, and communitarian lifestyles that challenged capitalist urbanisation, housing speculation, and unsustainable and alienated lives. However, not all squatters articulated their views in the same manner. Nor they did react unanimously to housing needs and social aspirations for a meaningful urban life. Some squatting projects were short-lived whereas others lasted for decades. In some cities or metropolitan areas, squats were tightly intertwined with other social movements, but this was not always the case. In some contexts, repression, legalisation, or a variable combination of both ruled the development of squatting. These political interactions were the sources of internal strains and divides. In particular, by examining multiple cases across Europe, this book investigates how specific structures of opportunities and constraints shaped the squatters' interactions with their opponents, and what kind of sociopolitical consequences were engendered.
Panelists:

Manuel Aalbers
Eleonora Pasotti
Hans Pruijt
Dominika Polanska

​Cities as Global Political Actors

AMC145 | THURSDAY 15 JULY, 14:00-15:30 CEST
Ben Derudder - UGent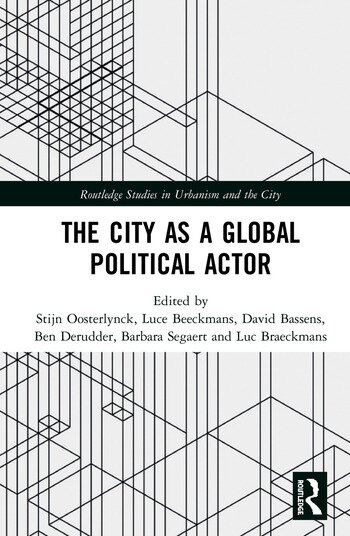 Book (edited volume) to be discussed: Oosterlynck, S., Beeckmans, L., Bassens, D. and Derudder, B. (2018) The city as a global political actor. London: Routledge.
In this session, we aim to discuss a recently published volume with theoretical and empirical contributions to the debate on cities as global political actors. The book engages with the thorny question of global urban political agency. It critically assesses the now popular statement that in the context of paralysed and failing nation state governments, cities can and will provide leadership in addressing global challenges such as climate change, rampant social inequalities and intercultural tensions. The book brings together contributions from International Relations and Urban Studies, two fields that urgently need to be brought into conversation with each other to assess global urban political agency. Collectively, the chapters in this volume contextualize urban agency in time and space and pluralize it by looking at how urban agency is nurtured through coalitions between a wide range of public and private actors. The book also geographically expands analysis by looking beyond global cities in diverse contexts.
This author meets critics session aims to continue conversations organized at previous RC21 conference on the topical issue of city-state relations. In line with the spirit of the book, we aim to invite six panelists that work from a diversity of geographical contexts and include scholars in urban studies as well as international relations. Two of the panelist will be contributors to the volume, while four others are not. Panelists will be asked to reflect on the question whether the contributions in the book succeed in the self-proclaimed aim of the editors: (1) contextualizing urban agency in time and space by being sensitive to the path-dependency of socially produced urban agency; (2) pluralizing urban agency by seeing urban agency as socially produced through the forging of coalitions between a variety of public and private actors; and (3) expanding geographically our understanding of how urban agency can make a difference on the global scale by looking beyond global cities and draw on a diversity of contexts.
​Panelists:
Michele Acuto
Sam Taveirne
Carola Fricke
Jorn Koelemaij
Estate Regeneration and its Discontents - Public Housing, Place and Inequality in London

AMC102 | FRIDAY 16 JULY, 15:45-17:15 CEST
Paul Watt - Department of Geography, Birbeck, University of London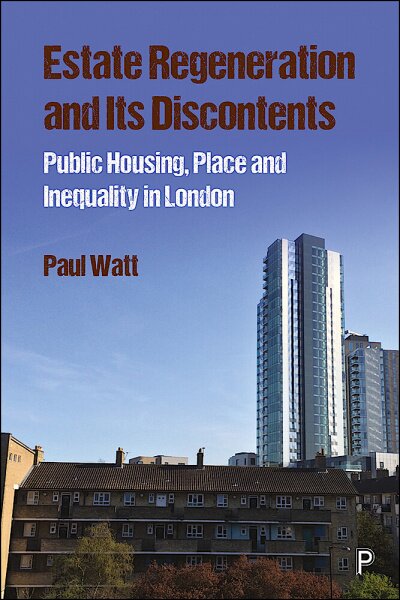 Book to be discussed: Paul Watt (2021) Estate Regeneration and its Discontents: Public Housing, Place and Inequality in London. Bristol: Policy Press.

Public housing estates are disappearing from London's skyline in the name of regeneration, while new mixed-tenure developments are arising in their place. This richly illustrated book provides a vivid interdisciplinary account of the controversial urban policy of demolition and rebuilding amid London's housing crisis and the polarisation between the city's have-nots and have-lots.

Drawing on extensive fieldwork and interviews with over 180 residents living in some of the capital's most deprived areas, Watt shows the dramatic ways that estate regeneration is reshaping London, fuelling socio-spatial inequalities via state-led gentrification. Foregrounding resident experiences and perspectives both before and during regeneration, he examines class, place belonging, home and neighbourhood, and argues that the endless regeneration process results in degeneration, displacement and fragmented communities.
Panelists:
Rowland Atkinson
Martine August
Mervyn Horgan