Research professor Nele Wynants (UAntwerpen) shares that, in the past, the fair was a central hub for spreading scientific knowledge, new technology, and visual culture. She takes us back to a time when Théâtre Mécanique Morieux and Dr. Spitzner's Grand Musée Anatomique were among the most popular attractions.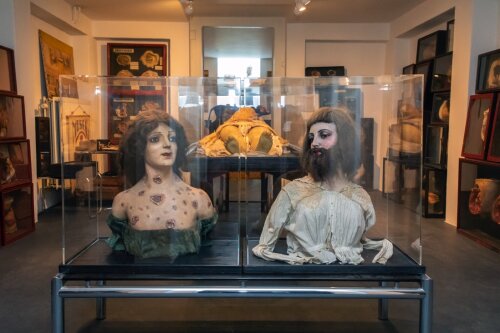 "Thanks to this eternal search for novelties, the fair has never stopped evolving, even now."

You can read the full article (in Dutch) here.
Image: wax figures including a 'woman with a beard' on the right were also displayed at the fair, from the Roca museum © Charlotte Lybeer, Coolen family collection

What if you could learn about recently discovered wonders of the world at the Sinksenfoor? With Science at the Fair, Nele Wynants (Antwerp Research Institute for the Arts, UAntwerpen) investigates the role of travelling fairgoers in the dissemination and popularisation of science, knowledge, and visual culture between 1850 and 1914. She received European funding for her project.

Read the full article in Dutch here.
Science at the Fair in Bladspiegel (UAntwerp Faculty of Arts blog, 25/5/2022)
SciFair will perform pioneering research on the role itinerant show people played in the dissemination of information about scientific and technological advances at fairs in western Europe between 1850 and 1914. The project is based on the hypothesis that during this period, fairs were not only local folk events but also centres of international exchange. Many theatres travelled internationally and could often be seen at a fair or trade fair. They stood alongside touring scientific museums, such as anatomical and natural history museums with wax figures that gave an insight into anatomy and biology, but also depicted historical and/or religious scenes.
Read the interview (in Dutch) with Nele Wynants by Michelle Coenen here.