"Heritage Day" (Erfgoeddag): a great success in Ghent and Antwerp (23/04/2023)
On 23 April 2023, SciFair participated in Erfgoeddag, themed "Beastly!" ("Beestig!"), with two separate concepts, respectively in House of Mysteries (Ghent, 350 visitors) and the Photo Museum (FOMU, Antwerp, 250 visitors).
In Ghent, a continuous exhibition on "Otherworldly things and animals" ("Dieren en dingen uit een andere wereld") astonished an audience of all ages. Wax objects, taxidermied animals, and magic lantern slides were only few of the items on display. Audience favourites included the Jenny Haniver (the modified carcass of a ray or a skate resembling a mummified fictional demon or dragon), a two-headed calf, monsters on formaldehyde, and other fables. The apparitions were bizarre, magical, transcendental and allowed visitors to push the limits of what they thought they knew. This exhibition was developed in the framework of the Objets Chargés symposium, held at the same location on 20 and 21 April 2023, and in partnership with Mystery Lab vzw and House of Mysteries.
Find out more:
In Antwerp, Cinema SciFair put up a tent in the FOMU entrance hall and presented viewers with images from carnivals of bygone years, seemingly through an antique movie projector provided by FOMU. SciFair was joined by partner B-magic, represented by a beautiful magic lantern specimen and accompanied by lantern slides of several animals. Finally, the GOA project on implicit bias provided visitors with a chance to look up lantern slides of their favourite animal in the enormous CLIP database. If those weren't already plenty of interesting activities, children could also have fun with colouring pages of ménagerie posters. As a cherry on top, visitors could view animals in 3D at FOMU's wonderfully restored Kaiserpanorama.
'Cinema SciFair' at Dag van de Wetenschap: a visit from the media (27/11/2022)
The 12th edition of Dag van de Wetenschap ('Science Day') attracted a lot of visitors across Flanders and Brussels. In Antwerp, people could visit various locations for a mix of workshops, demonstrations, lectures and other activities. SciFair was present at UAntwerp's City Campus with 'Cinema SciFair'. Read impressions from Belgian media outlets:
Art and theatre scholar Nele Wynants and her team presented 'Cinema Sci Fair': Using old film excerpts, visitors could see what the fair looked like a hundred years ago. "It wasn't merely a place where the general public could indulge in bumper cars and roller coasters, but also learn about new wonders of science," Nele shared. This included the state of medical knowledge - including any potentially sordid diseases you could catch -, cabinets of curiosities, new inventions like X-rays, magic lanterns that showed what exotic countries and animals looked like: you name it. At the time, there were few other places where something like this was possible, for an often illiterate audience and before the existence of cinemas."

Read the full articles in ​Het Nieuwsblad and Gazet van Antwerpen.​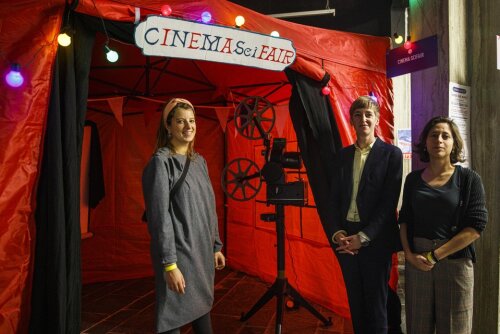 Cinema SciFair: Julie De Smedt, Nele Wynants, Eva Andersen © Nattida-Jayne Kanyachalao

Gitte Samoy's research in Bladspiegel (UAntwerp Faculty of Arts blog, 12/10/2022)
We meet PhD student Gitte Samoy in Berchem, in a basement full of strange objects: wax sculptures with the external features of syphilis and other skin diseases, pregnant women with exposed bellies, conjoined twins preserved in formaldehyde,... Welcome to the Coolen family collection! With the inventory of this extraordinary collection, Gitte is starting her first research within the EU-funded project Science at the Fair. Gitte's research focuses on freakshows and anatomical museums at those fairs.
Read the full blog post "Not for sensitive viewers: an exceptional collection of wax figures" (in Dutch) by Michelle Coenen here.
Research professor Nele Wynants (UAntwerpen) shares that, in the past, the fair was a central hub for spreading scientific knowledge, new technology, and visual culture. She takes us back to a time when Théâtre Mécanique Morieux and Dr. Spitzner's Grand Musée Anatomique were among the most popular attractions.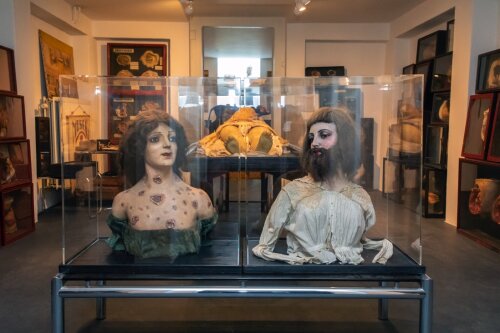 "Thanks to this eternal search for novelties, the fair has never stopped evolving, even now."

You can read the full article (in Dutch) here.
Image: wax figures including a 'woman with a beard' on the right were also displayed at the fair, from the Roca museum © Charlotte Lybeer, Coolen family collection

What if you could learn about recently discovered wonders of the world at the Sinksenfoor? With Science at the Fair, Nele Wynants (Antwerp Research Institute for the Arts, UAntwerpen) investigates the role of travelling fairgoers in the dissemination and popularisation of science, knowledge, and visual culture between 1850 and 1914. She received European funding for her project.

Read the full article in Dutch here.
Science at the Fair in Bladspiegel (UAntwerp Faculty of Arts blog, 25/5/2022)
SciFair will perform pioneering research on the role itinerant show people played in the dissemination of information about scientific and technological advances at fairs in western Europe between 1850 and 1914. The project is based on the hypothesis that during this period, fairs were not only local folk events but also centres of international exchange. Many theatres travelled internationally and could often be seen at a fair or trade fair. They stood alongside touring scientific museums, such as anatomical and natural history museums with wax figures that gave an insight into anatomy and biology, but also depicted historical and/or religious scenes.
Read the interview (in Dutch) with Nele Wynants by Michelle Coenen here.