PhD: Hannah Welslau | Supervisor: Nele Wynants | Co-supervisor: Tine Van Osselaer​
This PhD project will map and analyze the ways in which spiritualism, popular entertainment, science and religion were dynamically interconnected in Belgium between 1830 and 1930. It departs from the hypothesis that performative and theatrical aspects of spiritualism were essential in its rise and popularity, and yet at the same time contributed to its downfall. This focus on performance will place known actors in the field of spiritualism in a new light and is key to understanding their specific interactions. This research will unearth the relationships between mediums and spiritualists, professional show people and the scientific and religious individuals involved, who kept spiritualism alive through performing it and by surrounding these performances with lively debate.
The geographical focus is placed on Belgium, a country with different local contexts (Flanders, Brussels and Wallonia) and a crossroads for transnational influences. Furthermore, the vibrant Belgian spiritualist scene has yet to be thoroughly researched. This study aims to situate spiritualism in relation to popular performance culture and analyze the role of show people in the rise and fall of spiritualism, nuancing and adjusting dominant narratives about the role of different actors, the class they may have belonged to, and the place of women in spiritualism. It also aims to develop a better understanding of the role of technological media in creating effects, searching for empirical evidence and unmasking séances.
This project is funded by FWO (Fonds Wetenschappelijk Onderzoek - Research Foundation Flanders).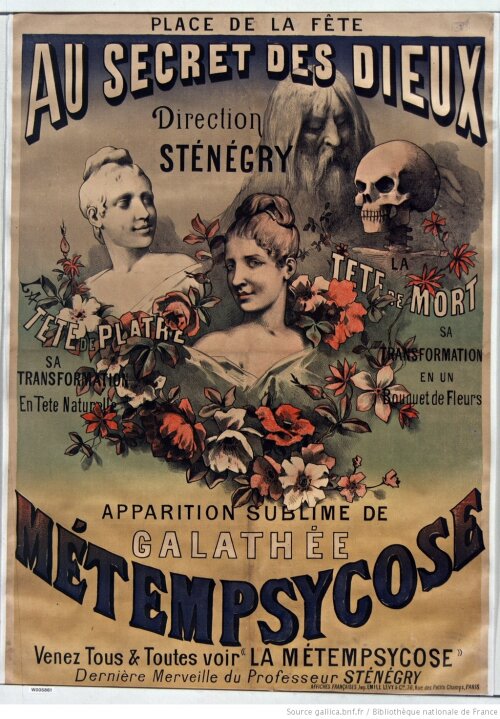 Poster for 'Au secret des dieux – Métempsycose Sténégry', 1887. Collection Bibliothèque nationale de France (Gallica)