Symposium on the collaboration with the University of Limpopo in South Africa
Human Wellness in the Context of Global Change, Finding Solutions for Rural Africa
Towards of a decade of collaboration with the University of Limpopo and Safako Makgatho University, South Africa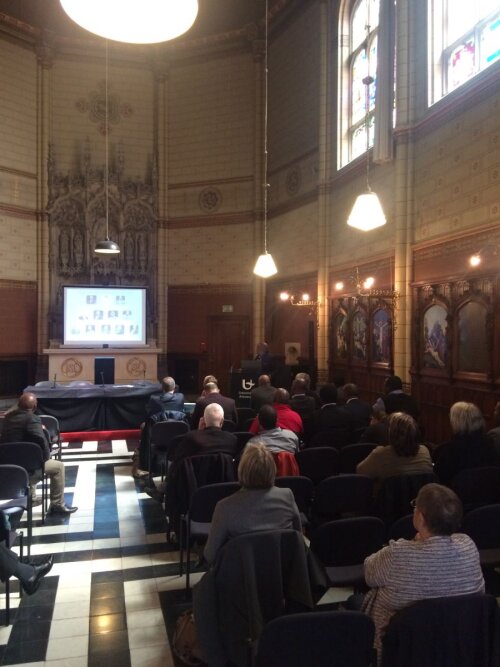 On the 20th of April 2017 about 50 representatives of the partnering universities in South Africa attended the first VLIR-UOS Symposium, organized at UA the City Campus. The symposium highlighted the collaboration between the University of Antwerp, University of Limpopo (UL) and Sefako Makgatho University (SMU). The theme was called "Human Wellness in the contact of global change, finding solutions for rural Africa."
The Institutional University Cooperation programme IUC-UL, sponsored by the Belgian Development Cooperation through the VLIR-UOS, has its objectives in strengthening the capacity of staff and students in research and community engagement. It gives support to the South African universities through the provision of educational, research-related and societal services. Furthermore it aims at empowering the local universities as to better fulfil its role as development actor in society.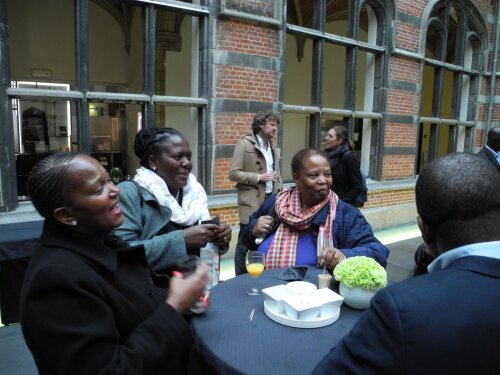 During the symposium several key note speakers addressed the audience. Both the South African programme coordinator, Prof. Kingsley Aiysi of the University of Limpopo (UL) and the Flemish coordinator, prof. Van geertruyden of the Global Health Institute of the University of Antwerp, highlighted the six different research projects within the programme. The Vice president Medical Research Commission (SMU), Jeffrey Mphahlele, referred to the challenges to sustaining scientific excellence in the South African Higher Education sector. Last but not least, the executive director marketing and communications (UL) addressed the education landscape in South Africa and the role the University of Limpopo takes up today.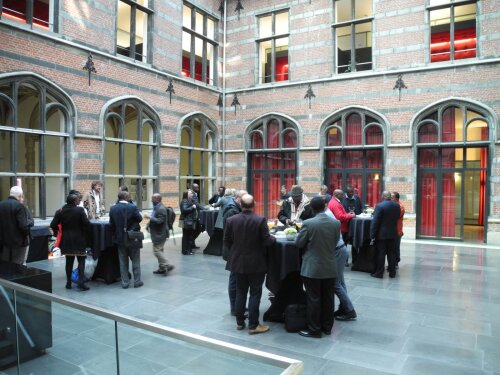 It was a very productive afternoon, with a total of 10 different presentations. The discussions that followed each session indicated a good interaction amongst the Flemish and international academic colleagues with an interest in South Africa. It was the ideal showcase for deliverables of current and past projects and above all, it gave an update of the ongoing projects within the IUC after almost a decade of fruitful cooperation.
Symposium programme

Programme

13:30 - 13:50 Welcome speech (Dean Paul Van Royen, UAntwerp)

13:50 - 14:20 Challenges to sustaining scientific excellence in South African Higher Education sector. (Jeffrey Mphahlele, Vice president Medical Research Commission)

14:20 - 14:50 University of Limpopo Today (DK Mohuba, Executive Director, Marketing and Communication, UL)

14:50 - 15:15 History and objectives of IUC Limpopo & Sefako Makgatho (Kingsley Ayisi / Jean-Pierre Van geertruyden)

15:15 - 15:35 UL Trust: Accounting services of the University of Limpopo Trust (Carina Marais, University of Limpopo Trust)

15:35 - 15:50 Project 1: Application of Statistics, GIS and Remote Sensing in Global Change Research (Yehenew Kifle / Christel Faes)

15:50 - 16:05 Project 2: Prevention, control and integrated management of chronic diseases in a rural community in South Africa. (Tholene Sodi / Hilde Bastiaens)

16:05 - 16:20 Project 3: Literacy leads to informed communities (Mahlapahlapana Themane / Martin Valcke)

16:20 - 16:35 Project 4: Laboratory science and public health management of sexually transmitted infections (Maphoshane Nchabeleng / John-Paul Bogers)

16:35 - 16:50 Project 5: Metal concentrations in the muscle tissue of fish from two impoundments of the Olifants River, South Africa (Abe Addo-Bediako / Lieven Bervoets)

16:50 - 17:05 Project 6: Food security in the context of climate change (Jones NG'ambi / Edilbert Van Driessche)

17:05 - 17:15 Closure