Grote kabelbacterie op tournee - Admire Lizzy in Micropia, the only Microbe Museum in the world!
Our first news item! More will follow soon...
Bewonder Lizzy -ons 7 meter lange model van een kabelbacterie- in Micropia, het enige Microbenmuseum ter wereld! Ontdek waarom ze deel uitmaakt van de tijdelijke tentoonstelling #EenBetereWereldBegintBijMicroben vol duurzame toepassingen via een filmpje, paspoort, verhalen en beelden.

Dit wetenschapscommunicatieproject is uitgevoerd door het onderzoekslabo van Prof. Filip Meysman van het "Excellence Centre on Microbial Systems Technology" van het departement Biologie. De onderzoekers bestuderen kabelbacteriën omdat deze zeer goed elektriciteit kunnen geleiden. Deze bacteriën zijn dus eigenlijk levende elektrische draden dat kunnen bijdragen aan duurzame toepassingen in materiaalkunde en elektronica. Ook kunnen deze bacteriën toxische nachtmerries in kustgebieden voorkomen.
Geïnteresseerd om meer te weten over deze bacteriën? Bezoek Micropia (www.micropia.nl/nl) in Amsterdam! De expo is alle dagen open tot en met 31 oktober. Geen tijd voor een bezoek? Bekijk gerust de website van de onderzoeksgroep: www.microbial-electricity.eu.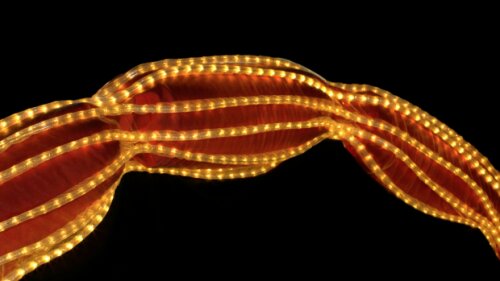 Admire Lizzy -our 7 meter long model of a cablebacterium- in Micropia, the only Microbe Museum in the world! Discover why she is part of the temporary exhibition #ABetterWorldBeginsWithMicrobes full of sustainable applications through a video, passport, stories and images.

This science communication project is performed by the research lab of Prof. Filip Meysman from the Excellence Centre on Microbial Systems Technology of the Biology Department. The researchers study cable bacteria, since they conduct electricity very well. So these bacteria are living electrical wires that could contribute to sustainable applications in material science and electronics. Additionally, these bacteria could also prevent toxic nightmares in coastal areas.
Interested to know more about these bacteria? Visit Micropia (www.micropia.nl/en) in Amsterdam! The expo is open every day until the 31st of October. No time for a visit? Feel free to check the website of the research group: www.microbial-electricity.eu.