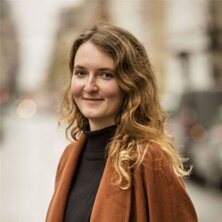 Nina holds a master degree in Urbanism and Spatial Planning (2018) and Interior Architecture (2015) from the University of Antwerp. From 2018 to 2021 she was project manager of two Erasmus+ projects on innovative learning methods in higher education in Latin America and the Caribbean focusing on (urban) sustainability challenges. Since 2019 she has worked on various research projects commissioned by the Flemish government (Department of Environment, Department of Mobility, Government Architect), the city of Antwerp, and construction companies.
Nina coordinated the International Design Workshop week in 2022 which invites academics/designers/artists to host a workshop for the master students of the Faculty of Design Sciences and the Royal Academy of Fine Arts. Currently, she works for the Design Sciences Hub on the MobiCap project investigating mobility capabilities of residents in Linkeroever, Antwerp.
Favorite (place in the) city?
Barcelona: surrounded by both sea and mountains, with its lively parks and squares, a broad offer of museums, different inspiring neighborhoods that invite you to wander around... And Gaudi!