PET AWAKE imaging for moving and interacting animals
Novel procedure to image small animals using positron emission tomography (PET) without the need of anesthesia. The PET point source-based tracking method thereby enables to image awake small animals and hence surmount confounding effects of anesthesia limiting the extrapolation of novel therapeutics to a clinical setting. Furthermore, due to its unique approach, it can in addition image animals in motion or in interaction with another animal. The latter opens up a whole new field of combining PET imaging with behavioral studies.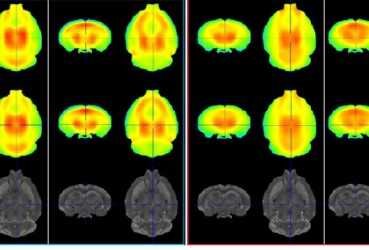 Comparative study of PET images under anesthesia and awake conditions. Figure adopted from Miranda et al. J Nucl Med. 2018.

Situation before
Preclinical positron emission tomography (PET) can provide information on the brain functioning and distribution of biomolecules in live animals and can relate it to cognitive processes and behavior, in health and disease. It hereby uses small animals (e.g. rodents), which are anesthetized during the imaging sequence. The anesthesia however leads to confounding effects, due to the interaction of the anesthetic agent with physiological and neurological processes, which might interfere with the predictive power and hence the translation of preclinical imaging results to a clinical setting. Few solutions have been developed to resolve this, such as the use of a RatCAP or the use of an optical tracking camera. These methods suffer however from different disadvantages preventing PET imaging of awake animals to become a standard procedure in preclinical studies. For example, the RatCAP is based on the surgical fixation of a portable miniature PET scanner on the rat head, and is therefore an invasive procedure which requires specific hardware. The method based on the optical tracking camera requires a PET scanner with a large bore size and cannot monitor freely moving animals.

​Technology
MICA successfully developed a PET point source-based tracking method that enables to image rodents in standard PET scanners without the use of anesthesia. For this non-invasive method, miniature radioactive point sources (<1g, ~1 mm) are fixed on the animal head and are used as fiducial markers to track its motion. The procedure offers several advantages compared to previous awake imaging strategies: (i) no need for additional hardware or large PET scanner bores (low implementation cost); (ii) no need for surgical procedures (non-invasive) or animal restraining, (iii) the ability to measure animals freely moving through the entire scanner field-of-view, (iv) compatible with different organisms (mice, rats, etc.), (v) not hindered by camera occlusions and (vi) the ability to measure interacting animals.QUOTE Jeroen Verheaghe: "From the start of this project our goal was to develop a practical approach to imaging awake animals. The promise of awake PET imaging had been there for about 10 years but never made it into real practice. After more than 3 years of development, we delivered an approach that can be implemented at a side in less than half a day of training and can be included easily into full scale PET scan protocols."

Partners we search for

We are looking for (i) pharmaceutical and biotech companies requiring access to advanced small animal PET imaging facilities and that can benefit from our awake and high-throughput PET imaging workflow, (ii) contract research organizations that provide imaging services and would be interested in offering AWAKE imaging to their customers and (iii) PET imaging technology providers that want to integrate our proprietary PET image reconstruction software for awake imaging into their scanners.

About the researchers

Both Dr. Alan Miranda and Prof. Dr. Jeroen Verhaeghe are part of the Molecular Imaging Center Antwerp (MICA) that was founded in 2010 as a joint effort by the University of Antwerp and the University Hospital Antwerp. The research group led by Prof. Dr. S. Stroobants consists of a molecular probe development team,a preclinical imaging laboratory (Prof. Steven Staelens) and a clinical department (Dr. Sarah Ceyssens), putting this lab at the forefront of bench to bedside research in molecular diagnostics. MICA has an excellent team of internationally recruited imaging experts, state-of-the-art infrastructure and has a strong interaction with major and medium-scale pharmaceutical and biotech companies and international research foundations due to their high-throughput high-quality imaging and image processing procedures and proprietary software packages. Their research focuses on four pillars: (i) neurosciences, (ii) oncology, (iii) tracer development and (iv) engineering & data-processing. Their facilities currently house two μPET/CT/SPECT scanners for small animals, two human PET scanners and an extensive radiotracer portfolio comprising relevant radiotracers for the fields of oncology and neurology. For more information visit www.uantwerpen.be/en/research-groups/mica/
More information
University of Antwerp

Valorisation Office
Middelheimlaan 1
2020 Antwerpen - Belgium
T +32 3 265 88 69