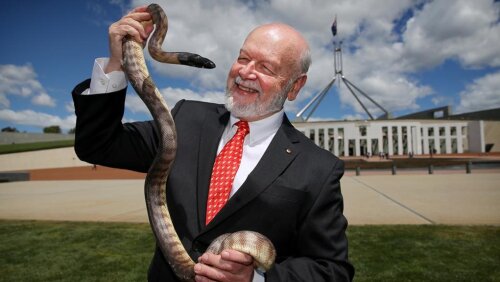 As International Collen-Francqui Chair, Prof. Rick Shine will give a series of Classes of Excellence.
This second class will focus, first, on the importance of non-model organisms in evolutionary ecological studies and, second, on life in academia. The class will be proceeded by an introductory talk of dr. Simon Baeckens (UAntwerp, UGhent).
All students, postdoc researchers, and professors in biology are warmly invited to attend the classes.
Date & time
Tuesday 18 April 2023 at 2 p.m.
Who is it for?
Students, postdocs, and professors in biology.
Programme
Not quite rodents or birds - why evolutionary ecologists should look at other animals

2:00 p.m.: Welcome and introduction by Prof. Raoul Van Damme (UAntwerp)
2:10 p.m.: Talk by dr. Simon Baeckens (UAntwerp; UGent) on "Using anole lizards to understand the speed and predictability of evolution"

2:30 p.m.: Keynote lecture by Prof. Rick Shine on

"Using snakes to unravel the evolution and ecology of variation in organismal colour"



3:30 p.m.: Coffee
On life in academia

3:50 p.m.: Talk by Prof. Rick Shine on "A life in science, as seen in the rear-view mirror of an increasingly slow-moving vehicle"

4:05 p.m.: Talk by Terri Shine on

"The impact of academia on family life"




4:20 p.m.: Causerie with Prof. Rick Shine and Prof. Hans Van Dyck (UCL) on the life of a naturalist




4:50 p.m.: Reception
Location
University of Antwerp
Campus Drie Eiken
Building Q - Auditorium 002
Universiteitsplein 1
2610 Wilrijk
Registration
Participation required (before 14 April).