Baroque influencers. Jesuits, the city and the muses
The Baroque period in Antwerp is inextricably linked with the Jesuits and the Counter-Reformation. Through education, preaching and pastoral care, the order promoted the Catholic faith to all walks of life. At the same time, the Jesuits made the religious visual culture ubiquitous with the help of various art forms, in which they themselves were adept or for which they engaged renowned artists. Typical are the massive distribution of devotional pictures, their collaboration with Flemish masters such as Rubens, and the construction of the Ignatius Church, completed in 1621, which is now Saint Charles Borromeo's Church.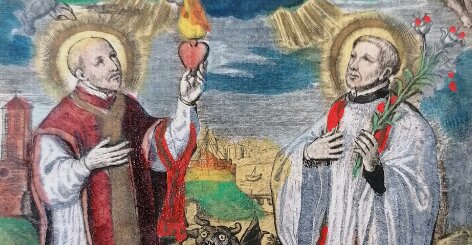 In 2023, we will investigate the cultural-historical impact of the Jesuits on the Antwerp urban fabric with the event series "Baroque influencers. Jesuits, the City and the Muses ". In collaboration with various Antwerp partners, we put the unique heritage of the order in the spotlight. The program includes both cultural and academic events. An overview:

The performance of Zungchin, a rarely seen before by Vondel, takes a look at the missionary work of the Jesuits in China. An exhibition focuses on the special images that the order used to reinforce its vision of faith and society. The Hendrik Conscience Heritage Library brings Sodality - the building where the Jesuits organized weekly meetings for the (male) elites of Antwerp - back to life in a virtual reconstruction. A city walk takes visitors to the different hotspots of the Jesuits in baroque Antwerp.

A conference, a summer school and a series of lectures also bring the theme to international attention. Most of the activities take place in and around Saint Charles Borromeo's Church, the most astonishing result of the synergy between the self-conscious order and the artistic scene of the time
"Baroque influencers" is an initiative of the Jesuit Heritage Foundation. This Foundation was established by the University of Antwerp and the UCSIA. The Foundation focuses on the scientific and social valorisation of the movable material heritage of the Jesuits in Antwerp and beyond.
Do you want to support our project? Here's how you can contribute:

Tax relief
Did you know that donations of 40 euros or more are 45 % tax deductible? This is an extra incentive to provide maximum support to this project.
Step 1 - Donation
There are two ways to donate:
By bank transfer to bank account number BE42 7310 4624 7854 in the name of 'Universiteit Antwerpen'. Be sure to mention 'fiscaal attest' (tax certificate) and your preferred destination, in this case: 'Baroque influencers', in the communication field.
By online payment, where you can indicate your preferred destination straight away.
Step 2 - Donation form
In order to allocate your donation correctly, we recommend you to also send us the donation form where you indicate your preference for the destination of the amount again.
Send the filled in form:
- digitally: email it to universiteitsfonds@uantwerpen.be ( a scan or photo are sufficient)
OR
- by post: Universiteitsfonds Antwerpen - Middelheimlaan 1 M.A.223 - 2020 Antwerpen