Final Conference B-magic: Call for Papers
'The Magic Lantern in Leisure, Entertainment and Popular Culture' (5-7 May 2022)
This conference aims to bring together new research and scholarship on the many uses of the magic/optical lantern within the changing urban leisure and entertainment contexts from the middle of the eighteenth to the first half of the twentieth century, across geographic and cultural boundaries. The conference will present and discuss the outcomes of the B-magic project and share them with all those interested in the magic lantern and lantern slides from a scholarly, historical, archival, curatorial, artistic, museological, educational or practical point of view. We invite contributions in different formats and from different disciplinary perspectives, addressing one or more of the following subjects: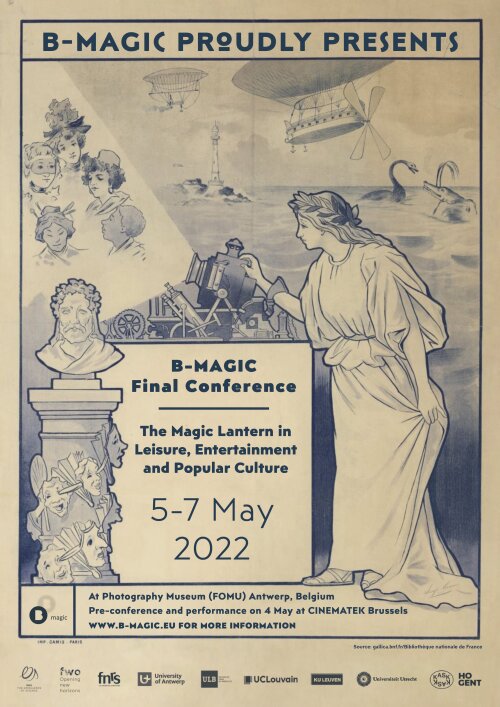 The use of the lantern in popular entertainment and leisure culture,
by different types of showmen and -women;
within its trajectories along new urban city centres and suburban areas;
in different types of performances and new types of attraction (theatre, opera, circus, scientific shows, lecture-performances…);
in an increasing diversity of venues (tents, booths, theatres, opera houses, cabarets, music-halls, lecture halls, schools…);
amidst the spread and application of other visual media;
consumed by different audiences and new social classes;
crossing with education, religious propaganda, political propaganda, science and knowledge communication;
influenced by broader historical processes such as urbanisation, political emancipation, migration, tourism...
intertwining different disciplines such as (cultural) history, art history and aesthetics, performance studies, media archaeology, history of science and technology, urban studies, geography, tourism studies, migration studies, digital humanities…
…
The deadline for propositions is 15 October 2021. Please send your abstract (max 300 words), five keywords and a brief academic biography by e-mail to B-magic@UAntwerpen.be.
Scientists, teachers, politicians, priests and showmen used the magic lantern to project transparent glass slides, postcards and objects onto the walls of fairground booths, theatres, auditoria and people's homes. As such, it functioned as a mass medium and cultural practice in Belgium. By investigating the role of the lantern in entertainment, religion, education, narration and politics, B-magic writes the as yet unwritten history of the magic lantern and makes an essential contribution to both the study of the country's cultural history and to international media historiography.
This project is an Excellence of Science project (EOS-contract 30802346, 2018-2023) supported by the Research Foundation Flanders (FWO) and the Fonds de la Recherche Scientifique - FNRS. A team of researchers at two Flemish and two French-speaking universities (UA, KULeuven, UCLouvain, ULB) will study the cultural impact of the magic lantern in Belgium, in collaboration with an arts college (KASK) and international partners (Utrecht University).