In June 2022, B-Magic researcher Leen Engelen visited the archives of the Nouveau Musée National de Monaco in Monte Carlo. The museum holds an exceptional collection of preparatory drawings and sketches for shadow plays and lantern slides made by the Belgian born painter and scenographer Eugène Frey (1864-1942).
After being discovered at the 1900 Paris exhibition where he projected images at the Palais de la Danse, Frey started working at the Théâtre de Monte Carlo. He collaborated on numerous opera productions. In the years that followed he finetuned his so-called décors lumineux, a complex set-up of multiple lanterns for the projection of lantern slides with moving effects, used as part of opera scenography. His slides were meticulously prepared with drawings, watercolour paintings, cut-outs, photographs...
The collection at the NMNM includes some exceptional items, such as scripts for shadow plays. Absolutely remarkable are two hand-crafted rotating discs used to create (horizontally) moving projections. Each cardboard disc consists of 15 individual glass plates with silver gelatin prints of consecutive images of galloping horses and a running moose respectively. The photo prints are hand painted by Frey, who despite decades of working with projections always remained a painter at heart.
Many thanks to Mme Celia Bernasconi, head of conservation at the NMNM, for opening up the collection for research.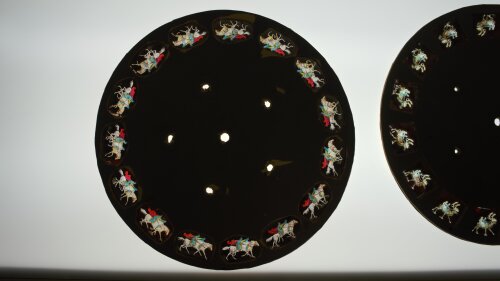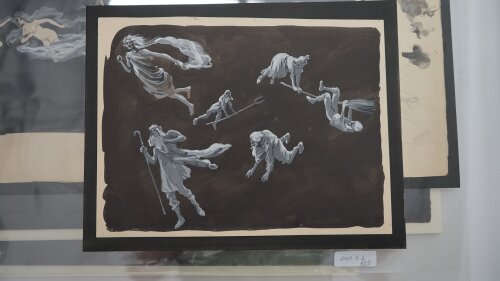 Left: Rotating discs by Eugène Frey, used in La nuit persane and Les contes d'Andersen respectively. NMNM, 2009.5.1 & 2009.5.2
Right: Preparatory gouache painting for lantern slide to be used in La damnation de Faust, 1905. NMNM, 2203.7.2
Mercator Fellow, Honorary Research Fellow, and speaker Leen Engelen​
​Leen Engelen has been invited as a Mercator Fellow at the DFG-Graduiertenkolleg Konfigurationen des Films (Goethe Universität Frankfurt am Main) and as an Honorary Research Fellow at the Centre for the History of War, Media and Society (Kent University). Additionally, she will be speaking about the Kaiser-Panorama at the International Panorama Council's conference in October 2021.

An interesting journey to Lausanne
Sabine Lenk, postdoc at UA and ULB, was invited as special guest at Université de Lausanne from November 2020 to January 2021. She researched the UNIL slide collection, which was used since the beginning of the 20th century for teaching art, architecture and archaeology. While she was giving a talk, Sophie Danges Gay, in charge of the Iconopôle at Bibliothèque Communale et Universitaire, told the audience that she had the same kind of slides in the BCU collection. Sabine did an inventory of several boxes and, together with Nathalie Blancardi, discovered that many of them were missing slides from the UNIL collection. At the end of Lenk's research stay a transfer contract was signed between UNIL and BCU for about 4.000 slides, now all part of UNIL's collection.

Sound in film (online Udine conference, 2-4 November 2020)
Sabine Lenk, Frank Kessler and Nico de Klerk (from our sister project 'Projecting Knowledge') were invited at the XXVII International Film and Media Studies Conference Retuning the Screen. Sounds Methods and the Aural Dimension of Film & Media History at the University of Udine in Gorzia (Italy) in March. The three speakers registered a podcast which was presented on the website of the university.
Staging through Image and Performance: Projecting Life Model Slide Sets (online conference, 21 October 2020)
Bart Moens presented the paper 'Staging through Image and Performance: Projecting Life Model Slide Sets' at the international symposium, Appearing / Revealing / Disappearing. Cultural Practices of Staging in 19th Century France, organised by the SHA and SHC of the University Lausanne. In this presentation, he explored the staging practices employed in the creation and the projection of the life model slides of Maison de la Bonne Presse.
A Ruwenzori lantern lecture (seminar, 11 September 2020)
Marte Van Hassel participated at the seminar Interventions décoloniales dans le milieu académique: Contributions belges à une discussion globale at Université Saint-Louis in Brussels, organised by Sarah Demart (USL) and Sophie Withaeckx (VUB), presenting the paper 'A Ruwenzori lantern lecture: on the performativity of invisibilities and gaps in a 1932 magic lantern lecture in the archive of the ULB' on a collection of magic lantern slides, preserved at the ULB, on a scientific expedition to the Congo (1932).
Lecture during Historie van de Magie (History of Magic, 8 March 2020)
At the third edition of Historie van de Magie (History of Magic), a seminar on the history of magic in the Low Countries on 8 March 2020, B-magic researcher Nele Wynants gave a lecture about the female branch of the famous Belgian fairground family Grandsart-Courtois. This rich seminar programme also included a magic lantern show by Ditmar Bollaert, an act by ventriloquist Monarqu, and Guinelli as Guest of Honour.
'Illustrated lecture' at the Dutch Ministry of Internal Affairs (The Hague, 11 November 2019)
On international Armistice Day, November 11 2019, B-magic postdoctoral researcher Klaas de Zwaan gave an 'illustrated lecture' at the Dutch Ministry of Internal Affairs in The Hague. In front of a large audience of civil servants, Klaas discussed the propagandistic uses of film and lantern slides in the neutral Netherlands during World War I. As this topic also implied his current research on Flemish lantern propaganda (together with Evelien Jonckheere), B-magic was not left unmentioned.