Welcome at the Institute of Jewish Studies at the University of Antwerp.
The Institute focuses on the academic study of Judaism from a variety of cultural disciplines, including history, philology, literary theory, religious studies, law, philosophy and sociology. The Institute is active in academic research, university education and educational services for a general public.
Each academic year, the Institute organizes more than twenty lectures by national and international experts. These Thursday evening lectures are aimed at a broad audience and are freely accessible. The Institute organizes language courses Yiddish and modern Hebrew, as well as reading groups.
The Institute also organizes academic conferences, seminars and workshops, often in cooperation with Belgian and international academic and cultural institutions.
Modern Jewish history, literature, philosophy, and culture since modern times are at the heart of the Institute's research and education. The issues discussed, however, always touch, directly or indirectly, upon current events or current academic discussions.
The Institute is fully integrated into the University of Antwerp and is supported by the Ministry of Education of the Flemish Community. It was established in the autumn of 2001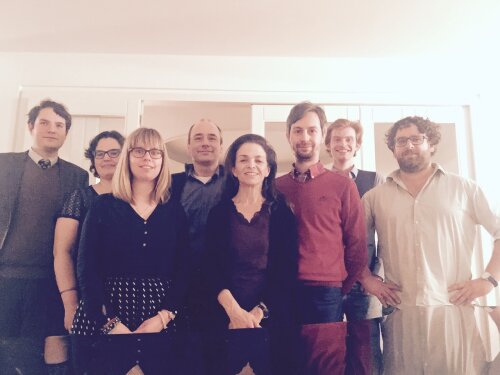 From left to right: Dennis Baert, Katrien Vloeberghs, Annelies Augustyns, Arthur Cools, Vivian Liska, Jan Morrens, Sebastian Müngersdorff, Hans van Nes