We welcome all University of Antwerp researchers with an interest in neuroscience to the first NEUROday 2023. Our goal? Enhancing science communication and collaboration in neuroscience within our university!
Effectively communicating your research findings to a broad audience, including researchers outside your own field, is a crucial skill for a modern scientist. Therefore, we will focus on presenting your research in a 3-5 minute pitch presentation (your NEUROpitch). Not sure how to get started? Check out our workshop offer below.
What can you expect on NEUROday 2023?
3 sessions with your NEUROpitches, with best NEUROpitch award​
An overview of the neuroscience-landscape at the University of Antwerp

A more traditional poster session to showcase your research​
Plenty of networking opportunities during lunch & coffee breaks ​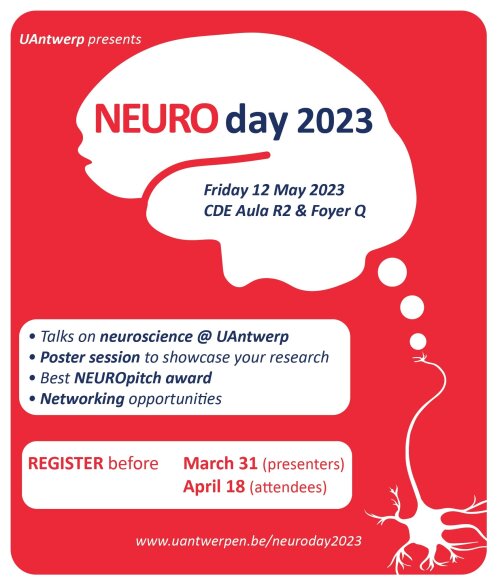 NEUROpitch Workshops

Not sure how to start preparing your NEUROpitch? Join us for a preparatory workshop and feedback session by expert Ben Verhoeven from ERLNMYR.

NEUROpitch Workshop – Tuesday 25 April, 9:30-12:30 (D.R.104)

A workshop full of tips and tricks to get started on your NEUROpitch.

NEUROpitch Feedback sessions – Friday 28 April, 9:30-12:30 (D.R.008) OR 13:30-16:30 (D.R.007)

Get feedback from experts and peers on your NEUROpitch to be fully prepared for NEUROday 2023.

Please note that the number of spots for the workshop (30 places) and feedback sessions is limited (20 places). Priority will be given to researchers presenting a NEUROpitch on NEUROday 2023. If necessary, the organizing committee will select candidates based on a balanced distribution between topics.