Masterpiece: Dirk Martens print (1473)
List of Masterpieces (Topstukkenlijst)
In Spring 2012 the Flemish Government decided to adopt an item from the Ruusbroec Institute Library in its List of Masterpieces. This means that the Flemish Masterpieces Decree officially recognizes its status as rare and necessary cultural heritage, which needs to be preserved in Flanders for the Flemish Community, because of its special archaeological, historical, artistic or scholarly value. There are special restoration grants for such masterpieces, and certain rules of protection apply regarding the physical treatment of the object and its transportation outside of Flanders.
The oldest printed book from Flanders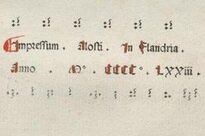 Printed in 1473 by Dirk Martens from Aalst, in cooperation with the German Jan van Westfalen, the 28 leaves containing the Speculum conversionis peccatorum, written by the Carthusian monk Dionysius van Rijckel, provide us with the oldest example of printing in the southern Low Countries. This unassuming booklet, which has survived the ages remarkably well, was printed barely twenty years after Gutenberg's invention and is therefore a highly important source for the study of the early days of printing in Flanders.
Dionysius' text is part of a book containing four other early printed booklets (shelf mark: RG-OLV 88 E 18). Three of these booklets have also been printed by Dirk Martens in the years 1473-1474, the fourth was printed in Cologne. Already early on these five booklets were bound together, as demonstrated by the handwritten table of contents. A remark in this table, added later, mentions the possible first owner of this book: the priory of Rooklooster in Oudergem near Brussels. In later centuries the book was moved to the Jesuits of the Onze-Lieve-Vrouwecollege in Antwerpen and, since 1998, it has found a safe harbour in the Ruusbroec Institute Library.
View this item online!
The complete book has been digitised and can be found on the digital platform of the University Library.