Kathleen Gyssels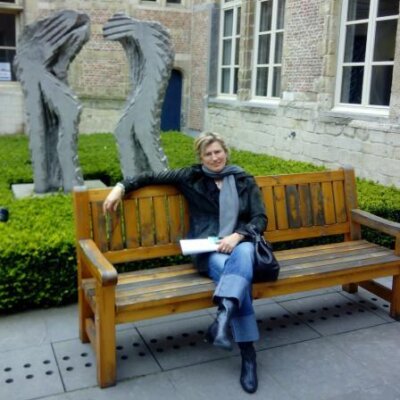 As Professor of Francophone Literature outside French, I privilege questions regarding multiculturalism (and its failure), discrimination and Black and Jewish Diaspora, worldwide and with special emphasis on the Caribbean archipelago. Representation of the Other, questions of canon formation (mainstreaming), comparative criticism beyond the linguistic frontiers are some of my favorite domains.
My classes at Antwerp University automatically touch upon those issues.
recent publications (some titles):
Gyssels, & Jacqueline Couti, "Mines de rien: l'Antillaise et l'Afropéenne face aux tropologies, entre mythes et réalités au fil du temps", Essays in French Literature and Culture, 56 (October 2019).
Gyssels & Christa Stevens, Hélène Cixous, écriture des origines, origines de l'écriture (Brill ed., Crin, 66 ( 2019)
Dalhousie French Studies (Summer 2020): speciaalnummer over Léon-Gontran Damas
To conclude, some articles in different blogs and online journals:
En français : "Tirolien et Damas, deux antillectuels mémorables", La plume francophone (mai 2017) :
https://la-plume-francophone.com/2017/05/27/guy-tirolien-et-leon-g-damas-deux-antillectuels-memorables/
"Les blessures d'un poète": entretien avec MV. Howlett à propos de L.G. Damas,Continents manuscrits, 7 (2016)
https://coma.revues.org/706
Les Gary de Goyave : sur les inédits schwarz-bartiens, Continents manuscrits, 7 (2016)
http://coma.revues.org/714
en néerlandais : http://werkgroepcaraibischeletteren.nl/lancetre-en-solitude-de-simone-andre-schwarz-bart/
in OSO, interview met de Surinaamse Astrid Roemer :"Ten huize van 'Zamani' Roemer : een gesprek in het hart van" Gent (OSO; 2016)
in English : on posthumous novels by André Schwarz-Bart (L'étoile du matin, 2009, L'Ancêtre en Solitude, 2015)
http://southernworldartsnews.blogspot.be/search?q=gyssels
more information: https://www.uantwerpen.be/en/rg/postcolonial-literature/publications/