Regan Watts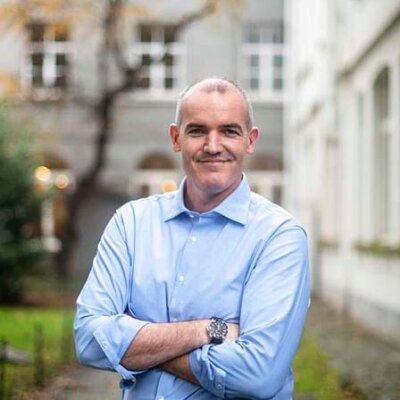 Since 2017, I have been a faculty member of the Department of Product Development. I lecture Technology-Driven Design in the master's programme in Product Development. I have a broad range of on-going research projects, including funding from imec, IOF and BOF for research into mixed and augmented reality devices and the development of medical devices. My research programmes leverage the fantastic prototyping resources we have in Product Development: commercial laser cutters, CNC routers, and many 3D printers options (FDM, resin jet, powder printing). These resources make computer-aided, high-fidelity prototyping routinely possible. The difficult we do immediately; the impossible takes a little longer...
Unique blend of skills: My expertise lies in translating fundamental scientific research towards commercially-relevant outcomes. I have more than 15 years experience transitioning research from the laboratory towards commercial partnerships or as an academic start-up.
Product Development Experience: I have a PhD in Physics from the University of Auckland (QS Global World Ranking: #86). My background is in experimental laser physics, where I developed test & instrumentation for infrared lasers. I was a founding member of an academic start-up company, Southern Photonics Ltd, which was spun out of the Department of Physics in 2001. The company developed optical test & measurement instrumentation predominantly for the telecommunications market. The test & measurement division of Southern Photonics Ltd was sold to Coherent Solutions Ltd in 2013 (https://www.coherent-solutions.com/).
Research Experience: I worked for five years as a research fellow in Photonic Systems in Dublin City University (QS Top 50 under 50: #51). I have more than 60 peer-reviewed publications in photonics, and have bought in more than 1M EUR in research funding, including grants from FP7, H2020 and ESA. I understand how to formulate world-leading research, propose research programmes, and deliver the results to the academic community.
Consultancy Experience: Over the last decade, I have performed industrial consultancy in a wide range of technical fields including smart road lighting, heat-gain control of big-box warehouses, laser guidance for autonomous forklifts, evaluating PV plants, fault detection in 300-mm silicon wafers and sub-sea laser communications. I understand what it means to translate clients' needs into realistic solutions. I was an Associate Professor of Systems Engineering at Universiti Brunei Darussalam (QS Top 50 under 50: #34) where, between 2015-2016, I was able to offer my expertise to shape valorisation policy at the governmental level. In Brunei, I acted as an expert advisor for the Brunei Economic Development Board (BEDB), similar to VLAIO, where I monitored the progress of collaborations between universities and industrial partners, which were funded through government grants.
Department
Statute & functions
Zelfstandig academisch pers.
Tenure Track Asst. Professor
Internal mandates
bestuursorgaan
bestuursmandaat
expertenorgaan
expertenmandaat