Travel to the past with the Sint-Andries Time Machine
In collaboration with the City of Antwerp, Digipolis and ZAMIA, the Centre for Urban History from the University of Antwerp is working on a mobile application that allows to let visitors and inhabitants get involved into the history of houses in the area, with the families that lived and worked there, with the many shops, inns and guilds, but also with the contrast between richness and poverty. It is a sort of historical Google Streetview, but one that goes further than that. The app also tells us something about what was going on behind those building facades.
This pilot project includes the Sint-Andries quarter, an old working-class neighborhood in the city-centre of Antwerp, with many historical buildings and interesting places such as the Museum Plantin-Moretus, the pittoresque Sint-Andries church and the oldest street of the city: the Hoogstraat.
When walking through the streets of Sint-Andries, it will be possible to request information of a specific house, and of the people that lived there, as well as their names, occupation or gender.
While watching photos, engravings, paintings or drawings, you can discover how a house, church or street looked like in the far or recent past.
The Sint-Andries Time Machine sends you back to three historical years:
1584: Antwerp's 'Golden Age' or the early years of Peter Paul Rubens
1796: The French period
1898: Antwerp and its emergence as a world-class harbour
Walk through the Sint-Andries quarter and discover how many bakers lived there, or how 'forgotten' professions such as knife grinders looked like. While playing a mini-quiz, try to guess what amount of money you should have spent for a house almost 500 years ago. And, as a citizen-scientist you can help researchers with the camera of your smartphone by localizing the historical images.
The Sint-Andries Time Machine can be downloaded from the App Store(Apple) and Google Play(Android).
Contact information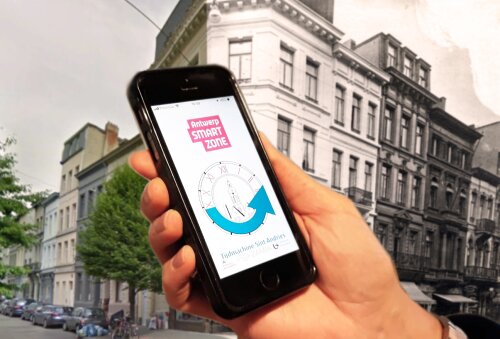 * Background: Google Earth & Felixarchief, FOTO-OF#6659
*** THIS PILOT PROJECT HAS BEEN COMPLETED. EVALUATION WAS SUCCESFULL. FURTHER STEPS TOWARDS FUNDING WILL BE TAKEN. FOR NOW, HOWEVER, THE APPLICATION IS TEMPORARILY OFFLINE ***