Duik in het verleden van Sint-Andries
Tijdmachine Sint-Andries (Dutch version)

Wie woonde er eind achttiende eeuw in de Lange Ridderstraat 4? Hoeveel bakkers telde het Sint-Andrieskwartier rond 1900? De antwoorden op deze en vele andere vragen kan iedereen voortaan uit de digitale Tijdmachine Sint-Andries halen, een uniek proefproject van UAntwerpen en de Stad Antwerpen.
De smartphoneapplicatie laat bezoekers en bewoners op speelse wijze kennismaken met de historiek van de huizen in hun buurt, met de gezinnen die er leefden en werkten, met de vele winkels, horeca en ambachten, maar ook met het contrast tussen armoede en rijkdom. Een historische Google Streetview zeg maar, maar dan wel eentje die verder gaat dan alleen maar het straatbeeld, en ons ook iets vertelt over wat er achter die gevels gebeurde.
Dit proefproject omvat het Sint-Andrieskwartier, een oude volksbuurt in Antwerpen met tal van historische gebouwen en markante plekken zoals het Museum Plantin-Moretus, de pittoreske Sint-Andrieskerk en de oudste straat van de stad: de Hoogstraat.
Als je door de straten van de wijk wandelt, kan je via de app informatie opvragen over een specifiek huis, over de mensen die er woonden en wat hun naam, beroep of gender was.
Ontdek ook hoe een gebouw of straat er in het verleden uitzag door foto's, gravures, schilderijen en tekeningen te bekijken.
De Tijdmachine Sint-Andries flitst je naar drie historische jaren:
1584: de Antwerpse Gouden Eeuw of de Jonge Jaren van Rubens
1796: de Franse periode
1898: Antwerpen groeit als wereldhaven
Ga op stap door Sint-Andries en ontdek hoeveel bakkers er in de wijk woonden of hoe 'vergeten' beroepen zoals garentwijnders eruit zagen. Probeer via een mini-quiz te raden hoe duur de Kammenstraat was. En als 'burgerwetenschapper' help je de onderzoekers met de camera van je smartphone om historische beelden te lokaliseren.
De Tijdmachine Sint-Andries is gratis te downloaden op de App Store (Apple) en Google Play(Android).
Contactgegevens
​

*** DIT PROJECT IS SUCCESVOL AFGEROND. VERDERE FINANCIERING WORDT GEZOCHT. MOMENTEEL IS DE APPLICATIE OFF-LINE ***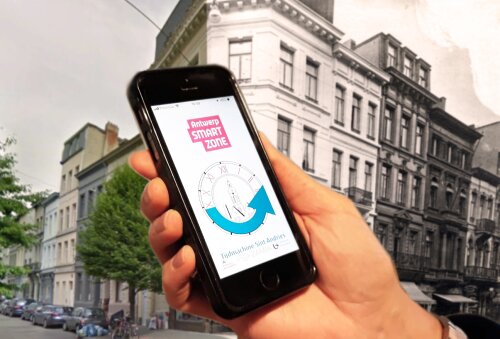 * Achtergrond: Google Earth & Felixarchief, FOTO-OF#6659