Science at the Fair: Performing Knowledge and Technology in Western Europe, 1850-1914
The 'Science at the Fair' project under principal investigator and B-magic member Nele Wynants (UAntwerp) is looking to fill one vacancy in the Antwerp Research Institute of the Arts (ARIA) department for a full-time postdoctoral researcher (100%) in Media history, art history, or cultural history. You can apply for this vacancy through the University of Antwerp's online job application platform up to and including 14 July 2022 (by midnight Brussels time) or through the SciFair website.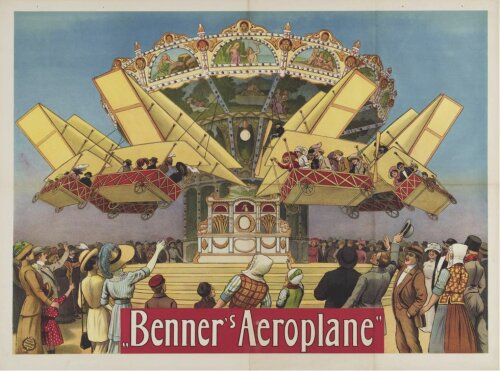 Benner's Aeroplane, 1913. Poster by Adolph Friedländer, Theater collection UvA (Allard Pierson)
Science took central stage during 19th century fairs ​
During the second half of the 19th century and the first decades of the 20th, travelling fairgrounds played a crucial role in informing people about all the latest scientific developments. The EU-funded SciFair project will perform pioneering research on the role itinerant show people played in the dissemination of information about scientific and technological advances at fairs in western Europe between 1850 and 1914. The project is based on the hypothesis that fairs during this period were not only local folk events but also centres of international exchange. For instance, travelling show people helped disseminate science. SciFair will engage a multilingual and multidisciplinary team to analyse practices of science performance across national frontiers and map transnational networks of western European travelling scientific performances.
SciFair is a five-year research project (2021-2026) funded by the European Research Council (ERC) under the European Union's Horizon 2020 research and innovation programme (grant agreement No 948678 - SciFair).