GIBS, AWDC and UAntwerp partnering for education
This course is a collaborative effort of three distinguished partners: the Antwerp World Diamond Centre (AWDC), the University of Antwerp, and the Gordon Institute of Business Science (GIBS), affiliated to the University of Pretoria.
Shared needs and common goals brought AWDC and UAntwerp together for the development of an educational track, celebrating the anniversary of the Antwerp diamond industry in 2017. With their combined expertise on history, trends and innovation in diamond industry, these institutions joined their forces for the inaugural edition of From Mine to Finger. In order to shed light on the same topics from a different perspective, GIBS now joins the collaboration to host the very first South African edition of this programme.
This edition on location will still be developed within the framework of Antwerp Summer and Winter University (ASWU), which has provided high standard, short-term, international courses at the University of Antwerp since 2010.
Antwerp – the world's primary diamond trading centre
Antwerp and diamonds are inseparable. Antwerp has been the capital of the world diamond trade for more than five centuries, ever since the first diamonds arrived at Antwerp's port and is widely recognized as the leader in the industry today, in more ways than one. AWDC's mission is to ensure Antwerp remains at the forefront of the global diamond industry, to foster awareness of Antwerp's unparalleled contributions to local and international trade and to inspire current and future generations to embrace the beauty and value of our product. We want everyone to recognize that diamonds are a fundamental part of Antwerp's DNA.
To give you an idea of what it means to be the leader in the diamond industry, and what this means for Belgium, consider a few facts: AWDC promotes the interests of more than 1,600 individual companies representing 6,600 direct and 26,000 indirect jobs in Belgium. In 2021, the total value of traded goods amounted to no less than US$37 billion. Antwerp's diamond imports and exports provide a significant boost to the Belgian economy, representing 15% of all Belgian exports outside the EU and 5% of total exports; more than 70 nationalities work together in Antwerp every day in the most international diamond trade center in the world. On a broader scale, the diamond trade provides employment and ensures a better livelihood for millions of individuals on all five continents.
South Africa – one of the world's primary diamond suppliers
South Africa is an exceptionally relevant location for a diamond course due to its status as one of the world's top diamond producers. Its rich diamond mining history and significant role in the global diamond trade make it a crucial hub for understanding every facet of the diamond supply chain, from extraction to the market. The nation's unique geological and cultural characteristics also contribute to a comprehensive learning experience in the field of diamonds.
Gordon Institute of Business Science
Founded in 2000, the University of Pretoria's Gordon Institute of Business Science (GIBS) is an internationally accredited business school, based in Johannesburg, South Africa's economic hub. As a business school, GIBS focusses on general management and aims to significantly improve responsible individual and organisational productivity and performance.
In 2022, the GIBS MBA was ranked as having the best reputation among employers and the first choice for students looking to pursue an MBA in the country by the Financial Mail Top MBAs Ranking. Quacquarelli Symonds World University Rankings: Global Executive MBA 2022 ranked GIBS at number 59, placing the School's MBA in the top third globally. In addition, in 2022, US-based CEO Magazine ranked GIBS 11th in its Global MBA Rankings highlighting the School as a Tier 1 business school.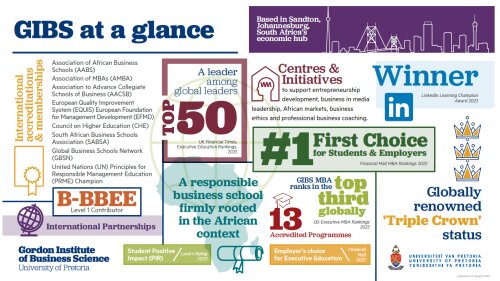 Antwerp Summer and Winter University
Antwerp Summer and Winter University offers several highly qualitative courses within the areas of excellence of the University of Antwerp and its partners. Summer/winter school topics cover almost all disciplines offered at the University of Antwerp, ranging from health sciences over design sciences to social sciences. The target group varies between summer/winter schools and may consist of students, researchers or working professionals. All short-term programmes consist of high quality education (lectures, visits, workshops) and fun & interesting social programmes. Participants can acquire ECTS credits upon successful completion of the programmes.
​Discover all Antwerp Summer and Winter University programmes.