ConNext 2023
Conservation by the Next Generation Student Conference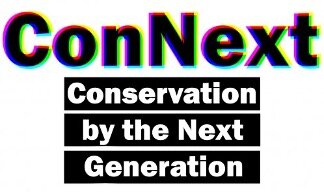 We are pleased to announce the third edition of ConNext: ConNext 2023. Last year, not only were we blown-away by the quality of the 25 paper and poster presentations that took place on the digital ConNext stage, we also warmly welcomed our new ConNext partner Ana Bidarra from the Polytechnic Institute of Tomar (Portugal). Ana and her students provided the necessary expertise to put the discipline of 'Polychrome objects Conservation' onto the ConNext programme.
This year, the ConNext team is proud to announce three new institutes that are joining ConNext!
We welcome Joško Bogdanović from the University of Dubrovnik (Croatia), Amélie Méthivier and Pauline Chassaing from the Institut National du Patrimoine (France), and Marie Postec and Francisco Mederos-Henry from the École Nationale Supérieure des Arts Visuels de La Cambre (Belgium).
Don't know ConNext yet? Here is some background

ConNext, or Conservation by the Next Generation, is an all-inclusive international student conference that focuses on wooden objects, furniture, and related conservation (e.g., finishing layers).ConNext offers aspiring and young professionals the opportunity to familiarise themselves with the formal practices of preparing for a conference. From writing the abstract to coping with peer-review critiques, and from preparing your presentation to public speaking.


The idea of presenting at a conference can be intimidating and ConNext was created to ease that burden. Your professors and the ConNext team ensure that the whole trajectory, from writing the abstract to presenting, occurs in a safe, informal, and encouraging environment. By participating in ConNext we aim to learn the participants through experience, to succeed, and to boost their confidence - so that the next time a conference opportunity comes along, they will go for it!
Discover the organising institutes

Vincent Cattersel (University of Antwerp - UAntwerp)
Emmeline Verheij (Master student UAntwerp)
Sophie Glerum (University of Amsterdam - UvA)
Aspasia Kopsida (APP-student UvA)
Angelika Rauch (University of Applied Sciences Potsdam - FHP)
Henning Schulze (University of Lincoln - UoL)
Julia Schultz (University of Applied Sciences and Arts Hildesheim - HAWK)
Shayne Rivers (West Dean College - WDC)
Friederike Waentig and Andreas Krupa (Cologne Institute of Conservation Sciences –TH Köln - CICS)
Ana Bidarra (Polytechnic Institute of Tomar - IPT)
Joško Bogdanović (University of Dubrovnik - UoD)
Amélie Méthivier and Pauline Chassaing (Institut National du Patrimone - INP)
Marie Postec and Francisco Mederos-Henry (École Nationale Supérieure des Arts Visuels de La Cambre - ENSAV)

All ConNext sessions are open to all and free to follow, no registration is needed.
Start of the ConNext Sessions: 19h – 21h CEST (6pm – 8pm GMT). All times in the programme overview are in CEST.
You can join the online platform 15 minutes before the start of each session.
Session dates and links to the online ConNext platform:
SESSION 1: 4 APRIL 2023 – DISASTER RECOVERY

19:00 – 19:20: KEYNOTE by Mounir Bouchenaki - Special Advisor to UNESCO for Cultural Heritage
19:20 – 19:40: KEYNOTE by Nadine Thiel (Historisches Archiv der Stadt Köln) and Christiane Hoffrath (University of Cologne)
19:40 – 19:50: Q&A
19:50 – 20:00: BREAK
20:00 – 20:15: PAPER by Katja Schüller (TH Köln – CICS) – Conservation of a Flood Damaged Object with Coloured Coatings.
20:15 – 20:30: PAPER by Mario Sebastian Wolter (TH Köln – CICS) – The mechanical removal of sediment sludge on paper fragments of a wooden object – The restoration of a flood-damaged trunk from Ahrweiler.
20:30 – 20:35: POSTER by Emmeline Verheij (UAntwerp) – Assessing the bioremediation properties of BioORG for the preservation of documentary heritage.
20:35 – 20:50: PAPER by Josipa Vodopika (UoD) – Conservation-restoration treatments on the lady's table from the library of summer villa Skočibuha.
20:50 – 21:00: Q&A and farewell


SESSION 2: 11 APRIL 2023 – UNDERSTANDING AND TREATING WOODEN SUPPORTS

19:00 – 19:20: Shane Wiechnik – Freelance conservator, Studio Conservation
19:20 – 19:35: PAPER by Marta Mandić (UoD) – Conservation-restoration of an overpainted 18th-century neoclassical cantilever mirror frame.
19:35 – 19:50: PAPER by Désirée Kosel (FHP) – Under Pressure: Applying vacuum pressing for the restoration of a baroque tabletop split in two and warped.
19:50 – 20:00: Q&A
20:00 – 20:10: BREAK
20:10 – 20:25: PAPER by Maria Mafalda (IPT) – Loss Compensation: A comparative study of materials for volumetric reconstruction.
20:25 – 20:40: PAPER by Ana Fonseca (IPT) – A pedagogical suitcase for wood sculpture.
20:40 – 20:50: Q&A and farewell


SESSION 3: 18 APRIL 2023 – BINDERS, ADHESIVES AND CONSOLIDANTS

19:00 – 19:20: KEYNOTE by Nanke Schellmann (Independent conservator and materials scientist)
19:20 – 19:35: PAPER by Pia Neitemeier (HAWK) – The adhesive strength of gelatine in comparisonto conventional hide and bone glues.
19:35 – 19:50: PAPER by Ana Oñate Muñoz et al. (ENSAV) – Bonding historical leather bookbindings – A comparative study in search for alternatives to wheat starch paste.
19:50 – 20:00: Q&A
20:00 – 20:10: BREAK
20:10 – 20:25: PAPER by Nora Stanislawski (TH Köln, CICS) – The Senftenberger-Ei of the designer Peter Ghyczy-Development of restorative measures for joining hard foam on the example of a broken garden chair.
20:25 – 20:40: PAPER by Amy Dixon and Jamie Rees (UoL) – Examination and treatment of two 15th century wooden roof angels ofthe Church of St. Edith, Grimoldby, Lincolnshire, UK.
20:40 – 20:55: PAPER by Kirstin Friese and Antonia Gerstner (FHP) – Art historical and technological examination of four wooden architectural elements from the German Historical Museum Berlin.
20:55 – 21:05: Q&A and farewell


SESSION 4: 25 APRIL 2023 – SURFACE PHENOMENA: UNDERSTANDING AND TREATING SURFACES

19:00 – 19:20: KEYNOTE by Emmanuelle Mercier (Royal Institute for Cultural Heritage, KIK-IRPA, Brussels)
19:20 – 19:35: PAPER by Mafalda Afonso (IPT) – Several faces throughout the time – Decision processes during the treatment of a Baroque polychrome wood sculpture.
19:35 – 19:50: PAPER by Luisa de Sousa (HAWK) – Zwischgold: characterization and use in medieval wood sculpture in the Lüneburg region.
19:50 – 20:00: Q&A
20:00 – 20:10: BREAK
20:10 – 20:25: PAPER by Aspasia Kopsida (UvA) – Looking for synthetic dyes on wooden substrate with the use of themulti-spectral camera Crime-lite® AUTO: a preliminary research.
20:25 – 20:30: POSTER by Pauline Natusch (HAWK) – Surface phenomena of transparent coatings on wood.
20:30 – 20:45: PAPER by Abi Tudor (WDC) – Reconstruction of missing decoration on an Anglo-Indian Sadeli workbox from the early 19th Century.
20:45 – 20:55: Q&A and farewell