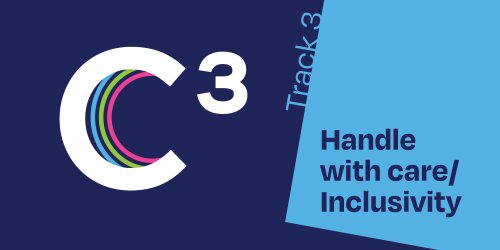 Compassion and care in the face of conflict! The desire to care is rooted in human-nature. Caring is an act of kindness and concern for others! In this track we welcome contributions that elevate care beyond its pure human focus. Design can take care of people, in the same way as buildings and objects need to be taken care of by people.
Can we harness technology, culture and design in such a way that it embodies kindness and concern for others (and for objects)? Can it build trust and empathy? Can it enable us to show up as we are in our super-diverse society? How can we equip the next generation of product developers, interior designers, architects, engineers, artists, etc. with tools that enable them to fight existing stereotypes, social exclusion, the loss of cultural treasures. Care has always been an important part of being human, care can be a motivator, a driver for design output and processes. Let's build care into our daily design practice!
Inclusive design
Super-diversity

Social spaces
Critical heritage, conservation and restoration
'Care' is a broad term with overlapping and diverging definitions used in different fields. Finding its origin in nursing theory, its study soon expanded towards sociology, anthropology, geography, and philosophy. Design sciences, whether related to interactions, objects or buildings, are challenged to merge and discuss insights gained in these fields into solutions that are socially inclusive, empathic, and attending to people's particularities.
'Care in design' can be approached as bi- or even omnidirectional interactions with attention for reciprocity, between living beings -human and non-human- and technology, including objects, interiors and buildings. Both design as an outcome and design as a process can be addressed in this respect.
Design research with a focus on care aims at practice and policy in order to integrate implicit and explicit care into people's everyday life and create future proof environments.
ADAPTATION OF HERITAGE
ADAPTATION OF BUILT HERITAGE / ADAPTATION OF INTANGIBLE HERITAGE / ADAPTATION OF MUSUEUMS / ADAPTATION OF DIGITAL HERITAGE/ ADAPTATION OF HERITAGE COMMUNITIES
The heritage field is very much responsive to its context. A good reading of international policies will reflect the changing spirit of its time, moving from monuments protection on the losses of individual masterpieces to urban conservation following widespread destruction created by the world wars. The current global challenges, indispensable from the national boundaries, are forcing all fields of natural and cultural heritage to transform and adapt. The heritage community has also witnessed the frequency of emergence of new concepts in addressing these challenges have become short lived. In the 1970s in response to saving buildings from falling in desolation, changing the function of the building, giving it a new life was in debate. As a result, adaptive-reuse was introduced as an approach to conservation/protection of built heritage. Now being under massive force of urbanization, built environment (be it a metropolis, urban area or a small settlement) and landscapes are going through yet another transformation.
Due to increasing pace of change, cultural heritage field in the past decade have invested on responding to conflicts, disasters and sustainability. The motto "management of change" and policies following it were drafted in a reactive way specific to each challenge. In due course, overarching concepts already fell short of fulfilling their mandate, in the face of pandemic, climate change, migration and wars.
ADAPTATION OF HERITAGE cluster aims to tackle the problem from an integrated point of view, acknowledging the fact that our natural environment, built environment and cultural inspirations and practises are forced to adapt to current and future global challenges. The key issue is how can heritage be the guiding resource in this transformation. Different research fields within the ARCHES research group, aims to open the discussion on how creativity and scientific research can offer possible strategies on adaptation, learning from our heritage.