​Symeres is a leading European CRO for small molecule synthesis, drug discovery and chemical manufacturing. Symeres is the result of the fusion of three Dutch CROs in organic chemistry, medicinal chemistry, process research and API development, i.e. Mercachem in Nijmegen (founded in 1997), Syncom in Groningen (1988) and Alcami (Cambridge Major Laboratories Europe, Chemshop) in Weert (1999). Recently, Admescope in Finland (Oulu) and Sweden (Södertälje) operating in ADME-Tox, was acquired. With over 500 scientists, Symeres offers best-in-class solutions for synthesis, drug discovery and cGMP production of APIs for up to clinical phase IIb. Symeres maintains a strong network of strategic alliances with partner companies that offer the highest quality services in their own specialized area. This network allows us to expand our chemistry and biology services to HTS, structure analysis, target identification, and more.

Whereas the majority of our customers are pharma and biotech companies, we work and collaborate a lot with academic research groups too. The University of Antwerp is one of them and has engaged Symeres (Mercachem) as a partner in the IT-DED³ project. By facilitating 3-month internships in our synthesis laboratories at our head offices in Nijmegen, Symeres provides the opportunity for three PhD students to learn how chemical research is conducted in industry. They can work in one of our internal company programs, not connected to their own IT-DED³ research subject, allowing them to broaden their expertise and skills in organic synthesis and scale-up of compound preparations. The students are allocated in a project team under supervision of an experienced scientist and present their results, including an introductory overview of their IT-DED³ results, in our biweekly lab meetings. In 2020, Davide Ceradini (LIOS) successfully worked on the synthesis of impurities to be used as analytical standards for the development of a commercial API. In 2021 Camilla Scarpellini and Alba Ramos Llorca (UA) will be visiting Symeres for 3-month internships. We hope they will also contribute successfully to our internal research programs and help to further expand our relationship with European academia and University of Antwerp in particular.
For more information see www.symeres.com or contact norimasa.morita@symeres.com and elena.herrero@symeres.com. Our IT-DED3 contact: peter.molenveld@symeres.com

The Quinze-Vingts (XV-XX) National Ophthalmology Hospital
Founded in 1260 as a hospice for impoverished blind people, it housed 300 beds (15x20) and it based its name on the vigesimal numerical system used at that time in France. In 1880, it moved to its current location, contributing to the creation of the Quinze-Vingts Quartier of Paris around the hospital.
Today, it is known as the Quinze-Vingts (XV-XX) National Ophthalmology Hospital, based in the center of Paris. In 2017, a total of 21.581 hospital stays, 309.000 consultations and additional procedures, and 60.240 emergency visits were counted. These figures make Quinze-Vingt a reference centre for the development of ophthalmological clinical trials.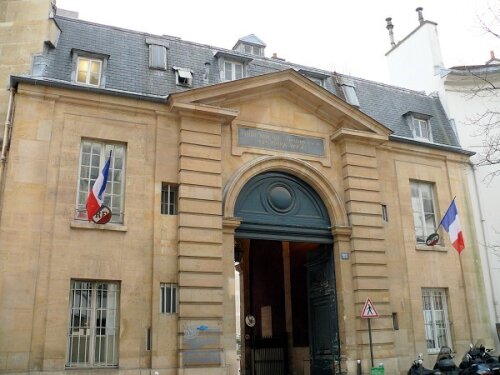 In 2004, within XV-XX facilities, the Clinical Investigation Center (CIC) was opened as the first research center in France dedicated exclusively to vision pathologies. More than 60 clinical trials are currently ongoing at CIC to test a wide range of therapeutic strategies for age-related macular degeneration, inherited eye diseases, diabetic retinopathy, retinal venous occlusions, glaucoma, Dry Eye Disease, biomarkers and high-resolution imaging of ocular surface pathologies, and toxicology of anti-glaucoma drugs.
In 2008, this research environment also gave rise to the Vision Institute, one of the most important vision research centers in Europe. Currently it is composed of more than 18 teams distributed in five departments, ranging from basic to applied research. The mission of the Institute is to identify patient needs, characterize their disorders, model them with the aim of uncovering therapeutic targets for drug and device development, and finally to return to the patients to validate the results. It also serves as a link with the industrial sector as it hosts eight pharmaceutical companies.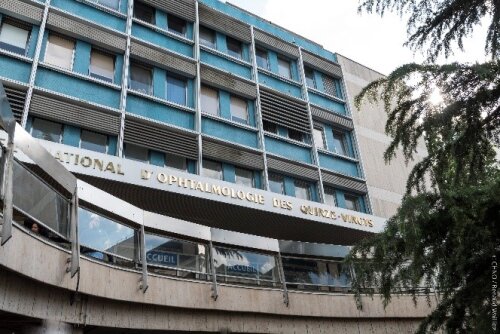 In 2018, Quinze-Vingts National Ophthalmology Hospital, Inserm, Sorbonne Université, and the Seeing and Hearing Foundation were awarded the highly prestigious IHU (Institut Hospitalo-Universitaire) label for their FORESIGHT Project. Centered around the Vision Institute, the project combines fundamental and clinical research of excellence to improve the knowledge and treatment of age-related macular degeneration (AMD), glaucoma, diabetic retinopathy and degenerative disease of genetic origin. The major funding accompanying this new status will considerably intensify the momentum of diagnostic and therapeutic progress driven by the IHU teams and their partners.