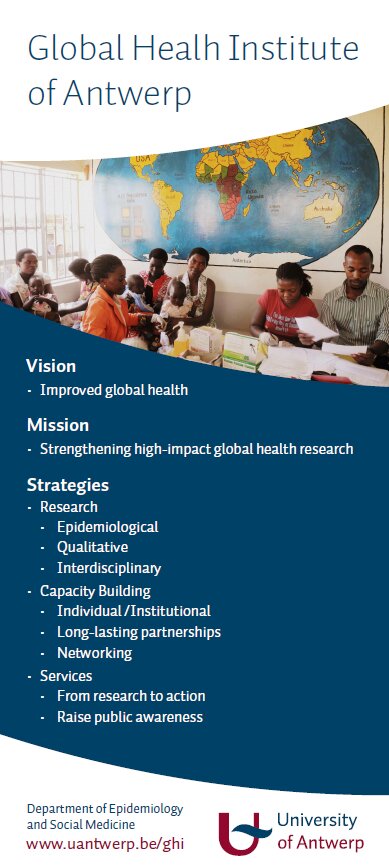 Strengthening high-impact global health research
The mission of the GHI is to conduct research aimed at improving the health of people around the world, to build capacity for global health research, and to engage in the implementation and evaluation of evidence-based interventions for health problems affecting low- and middle-income countries.
This is in accordance with the mission of both the University of Antwerp and the Faculty of Medicine and Health Sciences:
The University of Antwerp operates in a global society and therefore aims to stimulate the international orientation of all our students and staff members. The University of Antwerp has explicitly opted for an internationally oriented interpretation of the three core tasks: teaching, research and service to society. None of these tasks can be performed properly without being placed in an international context.
The Faculty of Medicine and Health Sciences of the University of Antwerp promotes public health through education, research and services. It reflects on medicine and health through evidence-based action and opts for an open, interdisciplinary approach. The faculty has a strong international dimension. The faculty emphasises a link between education, research and clinical practice an interdisciplinary approach and an international dimension.

The Global Health Institute (GHI) at the University of Antwerp will provide a framework for research, educational activities, and global health service together with local and global partners. We will aim to:
Raise public awareness in Belgium and abroad about global health, including the influence of globalization on health and health care services in Flanders and Belgium.
Facilitate progression from research to action by focusing on sustainable interventions for important health issues in low and middle-income countries.
Focus on interdisciplinary research, a broad set of diseases, including their biological and structural determinants, and the one-health concept to reflect the changing patterns of global health
Establish academic networks and long-lasting partnerships to generate sustainable collaborations and maximize return of investment for both partners.
Align research, training, teaching and services to the priorities of the University of Antwerp and the partner institutions (university, private sector, governmental and non-governmental organizations) in low and middle income countries.
Synergize and build on the unique strengths of the University of Antwerp and the partner institutions in low and middle-income countries.
Build capacity for epidemiological global health research among Belgian and international scholars through integration of scholars in research studies, short-term exchange programs, training in quantitative and qualitative skills required to conduct high-quality global health research, and enrollment In the University of Antwerp dual PhD program.
Strengthen the institutional capacity of the partnering universities and institutions in low- and middle-income countries to perform epidemiological research, grant administration, health education and knowledge management.
Strengthen the global health research capacity of the University of Antwerp by stimulating leading researchers to include a global health component in their research.
Work hand in hand with relevant Ministries (Health, Education, etc.) in Flanders, Belgium and abroad to improve in- and preservice training of health workers and the establishment of evaluation and monitoring systems;