The GHI aims to perform high quality research on a wide range of public health problems in low and middle income countries. Epidemiological methods are used to ensure optimal study design and analysis. When formative research is needed or to ensure optimal integration of the cultural context into research and implementation, qualitative or mixed methods are implemented. Health economics or mathematical modelling aspects of future studies are performed in partnership with colleagues from other departments at the University of Antwerp. Health systems research and implementation research is performed in collaboration with our international partners, local communities, and national Health Departments.
Ongoing research projects by research topic:
HIV
Malaria
Tuberculosis
Nodding disease
Neglected diseases (Emmonsia hoerikwaggiana & Schistosomiasis)
HPV and cervix cancer screening
Community Health
Educational activities at GHI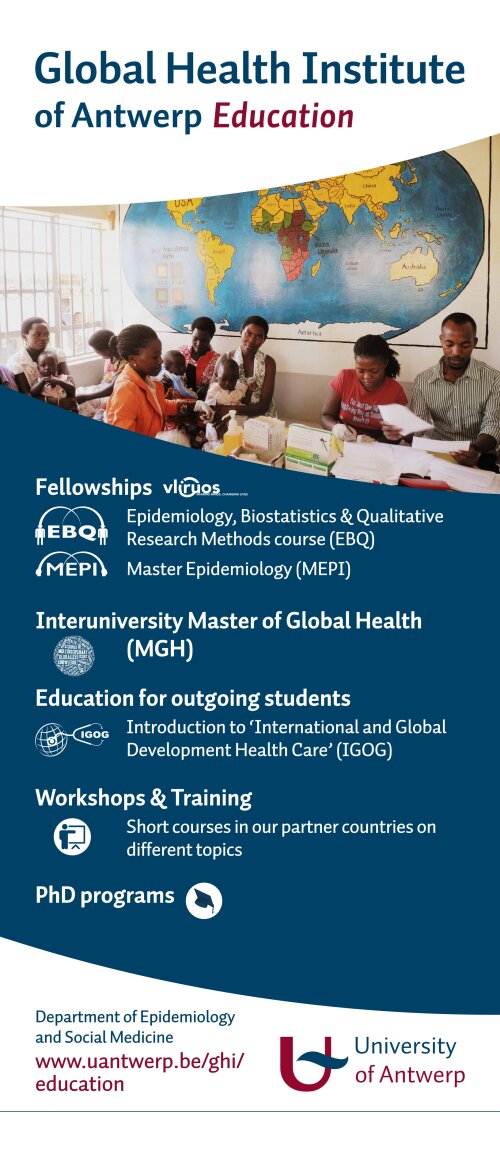 The GHI staff are involved in teaching in the following degree programs
Master in Epidemiology
Interuniversity Master of Global Health
Master in Medicine
The GHI staff or University of Antwerp partners organize the following short courses
Epidemiology, Biostatistics & Qualitative Research (EBQ)
Introduction to Health Care in Developing Countries
The University Center of Qualitative Health Research Antwerp, of the Department of Interdisciplinary and Primary Care of the University of Antwerp organizes a two courses on qualitative research methods annually, one international summer course (end of August) and one winter course in Dutch (March-Feb).
The GHI academic core members mentor Belgian PhD candidates as well as international PhD candidates, the latter preferably through a dual PhD program with an academic Chair from both institutions.