Welcome to the Uganda 'HEFS' Platform
The Health, Environment and Food Security ('HEFS') platform is a research platform sponsored by the Belgian Development Cooperation through the VLIR-UOS.
The Platform comprises of 5 Flemish Universities: Antwerp University, Ghent University, Leuven University, Free university of Brussels, Hasselt University and 8 Ugandan Universities: Mountains of the Moon University, Uganda Christian University, Uganda Martyrs University, Makerere University, Mbarara University, Gulu University, Kyambogo University and Busitema University. The coordinating universities of this Platform are the University of Antwerp in Belgium and Mbarara University in Uganda.
Health, Environment and Food Security are the key research topics. Therefore it is driven by assessing the relevance of the community in promoting food security, a healthy wellbeing and environmental sustainability. The platform will by nature require a multidisciplinary approach, from social science disciplines, exact sciences as well as from medical sciences.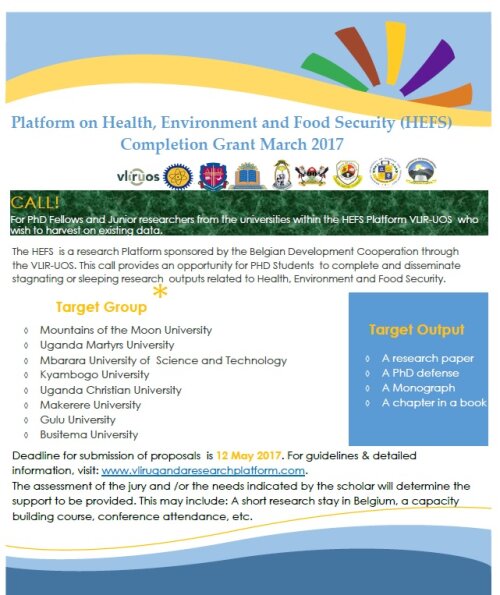 One of the core activities of the platform is providing the opportunity to PhD fellows and junior researchers to complete and disseminate stagnating or sleeping research outputs on the above mentioned topics via a Completion Grant Call. Read more on this via the links below.