Platform supports outreach activities on Landslide Risk Research
At the beginning of February 2018, a series of outreach activities were undertaken in the framework of the VLIR-UOS South Initiative 'Enhancing community-based natural resources and hazard management in Rwenzori Mountains'. The objectives of these activities were to publicize the results of the research conducted since 2014 on natural hazards in the Rwenzori, as well as discuss and generate support from national and local policy-makers and local community representatives for practical disaster risk reduction strategies.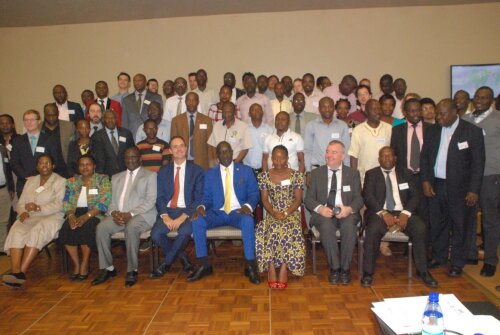 Firstly, a one-day international conference, entitled 'Disaster risk reduction fair: Examples from landslides and storms in Central Africa', was organized on Tuesday, the 6th of February, 2018 at Hotel Royal Suites in Kampala. Around 120 participants attended the conference, including national policy-makers (Ministry of Health, NEMA, …), representatives from international organizations (UNDP, FAO, IITA, WFP), non-governmental organizations (OXFAM, DENIVA, CARE, USAID, World Vision, Red Cross), the media and scientists from several Ugandan (Makerere University, Mountains of the Moon University and Busitema University) and international universities (Cameroon, VUB, ULg, KUL). Scientists from the different universities presented practical outcomes of their research whereby participants could directly interact, test out methodologies, and propose their own contributions and opinions.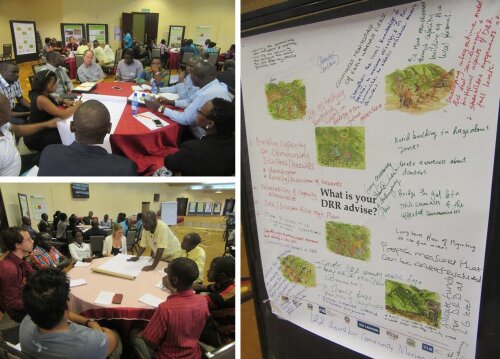 Secondly, on 7 February, an academic event on Landslide Risk Research was organised at Mountains of the Moon University whereby sixty students and staff members of this university, as well as representatives of the Kabarole District authorities and some sub-counties of the district participated. The outcome of the research on landslide hazard, its impacts on farmers' livelihood and the disaster risk reduction strategies were presented and discussed with the audience.
Thirdly, two multi-stakeholders' Workshops on landslide risk reduction were organised in Kasese, Bundibugyo districts, on 8 and 9 February. These events gathered district authorities, environmental officers and LOC3 of sub-counties, geo-observers and representatives of the civil societies (farmer organisation, red cross, emergency services) in Kasese and Bundibugyo districts. Each workshop attracted about 50 attendees, including scientists from MMU and its Belgian partners. Participants received policy briefs summarizing the science-based recommendations for landslide disaster risk reduction. A total of 600 educational posters, provided in English and 3 local languages (Rutooro, Lhubwisi, Lhukonzo), were distributed to be displayed in public spaces to raise awareness about landslide risk reduction in the Rwenzori Mountains. The presentation of the research findings and the new geo-observer network generated great interest from the district and local stakeholders.
The organisation of these events benefited from the support of the Uganda National Platform for Disaster Risk Reduction, the Belgium Embassy in Uganda, the Environmental Officers of Kasese, Kabarole and Bundibugyo districts, as well as academic partners from Mountains of the Moon University and Makerere University. Financial support was provided by the VUB Global Mind program, the BELSPO Brain.be programme and the VLIR-UOS HEFS Research Platform.
VLIR-UOS sponsored Conference assembles Ugandan Universities
On the 1st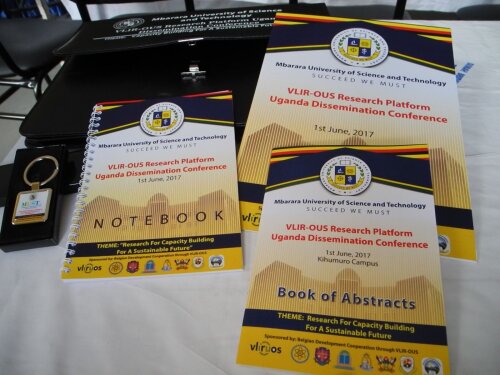 of June about 80 representatives of eight partnering universities in Uganda gathered at the new Kihumuro Campus of the Mbarara University of Science and Technology for the first VLIR-UOS Platform Dissemination Conference, under the theme "Research For Capacity Building for a Sustainable Future". The HEFS Platform, sponsored by the Belgian Development Cooperation through the VLIR-UOS, is driven by assessing the relevance of the community in promoting food security, a healthy wellbeing and environmental sustainability.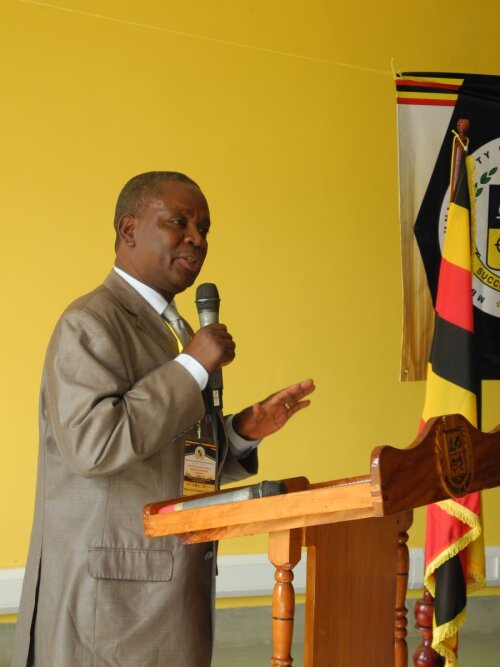 During the Opening Ceremony both the Ugandan promotor, Prof. Charles Kazooba of Mbarara University of Science and Technology (MUST) and the Flemish Platform coordinator, prof. Van geertruyden of the Global Health Institute of the University of Antwerp, highlighted the research objectives of the Platform and the virtues of this research collaboration driven by partnerships between universities. The Vice Chancellor at MUST, Prof. Obua, addressed the importance of strengthening research. The knowledge obtained from research output will benefit teaching and education at the Ugandan universities. As a result, better teaching and education will eventually lead to development in the country.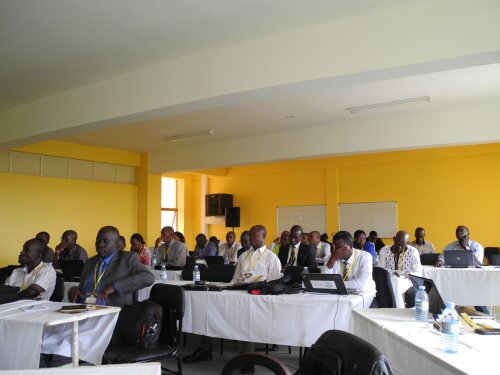 The Platform also aims at strengthening South-South cooperation between universities, both within Uganda and in neighboring countries. Hence researchers from Rwanda were invited to present their research findings on topics related to environmental and food security. Indeed, these issues are becoming increasingly relevant across the national borders.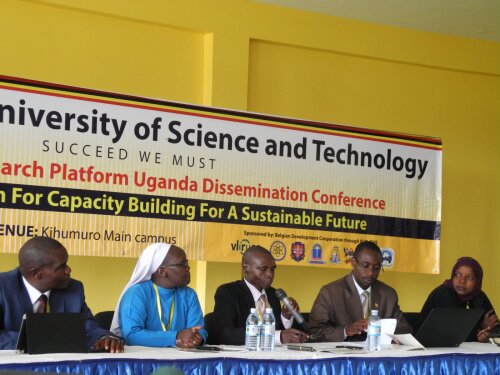 It was a very fruitful day, with in total eighteen presentations that were grouped into three main sessions on Environmental Issues, Health Issues and Food Security topics. The discussions that followed each session indicated a good interaction amongst the research colleagues of the different universities and a high interest in each other's research output. The local press was also present on this event and a news article has been published in the days following the Conference. Indeed, with the Platform activities and the dissemination conference in particular the involved researchers aim to create awareness of their research findings amongst the local communities and the relevant policy makers.
Here you can download the Dissemination Booklet that contains the Research Abstracts and Programme.
Julius Tanayen attains doctoral degree thanks to HEFS award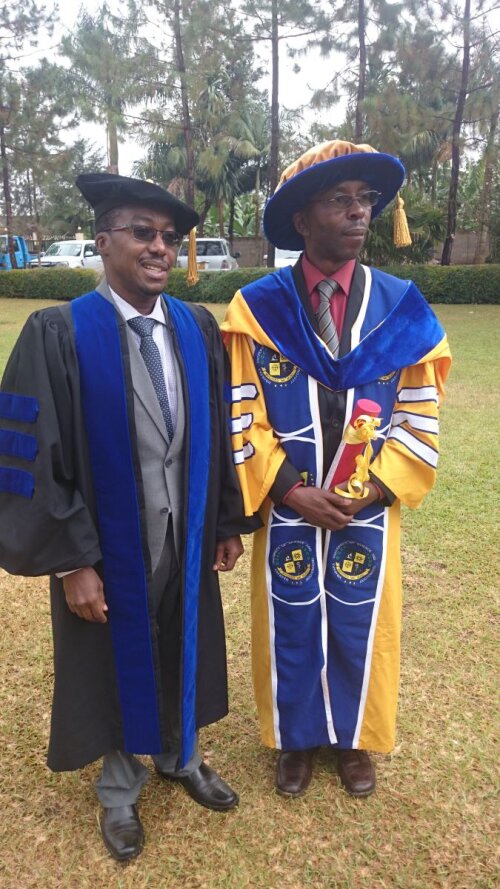 Julius Kihdze Tanayen successfully defended his PhD thesis on December 2nd 2016 at Mbarara University of Science and Technology (MUST).
Dr. Tanayen was a selected scholar of the HEFS Completion Grant Call of July 2015. He was awarded a Short Research Stay (SRS) with his mentor Prof. Gert Laekeman at the Catholic University Leuven, Belgium, from 31 January until 30 April 2015.
His research was called "The Antidiabetic Studies of Spathodea campanulata stem bark extract on alloxanised rats". The output of his SRS were two publications, and the finalisation of his PhD thesis. This eventually resulted in attaining the degree of Doctor of Philosophy of Mbarara University of Science and Technology. On January 28th 2017 the conferment or graduation ceremony took place. Congratulations Dr. Tanayen!
Highlights of the Platform meeting March 2016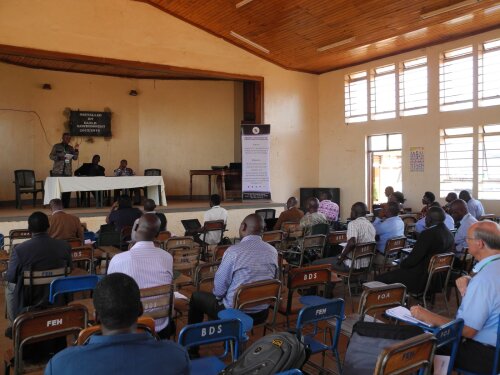 The Health, Environment and Food Security (HEFS) Platform, together with the Governance Platform, organized a dissemination workshop on 21st March 2016 at Gulu University. This was followed by a Joint Steering Committee Meeting (JSCM) on 22nd March 2016 at Bomah Hotel in Gulu. The HEFS platform is hosted by MUST and coordinated by Assoc. Prof. Charles Tushabomwe-Kazooba, the current Deputy Vice Chancellor in charge of Finance and Administration. This was Prof. Tushabomwe-Kazooba's, and Mrs. Aliguma's, the new platform manager, first official HEFS event.
All participating universities in Uganda were represented. Two representatives came from the University of Antwerp, both under the HEFS platform. Next to that, VLIR-UOS mandated Prof. Alan Penny to evaluate the two platforms and give feedback to both the donor and the Platforms. Prof. Penny's goal was to assess the platforms' modalities and outcomes and to see whether the Platforms are promoting development in the country.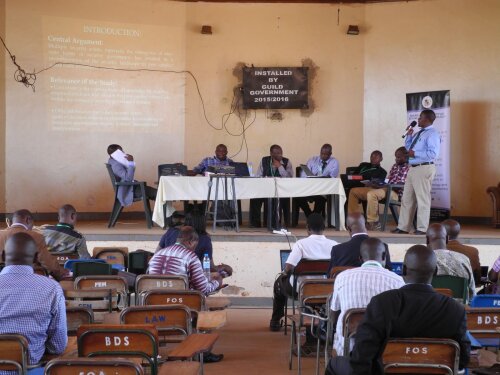 As had been agreed by the platforms at their launch in 2014, dissemination workshops and JSC meetings are hosted at the different partner universities on a rotational basis. During the Governance Platform's dissemination conference, a total of 14 papers were presented that focused on governance issues in various sectors in Uganda.
During the JSCM the following day, the selection procedure and the successful applicants of the Third HEFS Harvest Call of January 2016 were announced. Communication has already been sent to all applicants, both successful and unsuccessful. The logistical arrangements for the successful candidates are being worked upon. Next to that, it was agreed that the first dissemination workshop for the HEFS platform will be hosted at MUST on 26th or 27th January 2017. As the next graduation ceremony falls on 28th January 2017, all who attends the conference can also attend the graduation ceremony.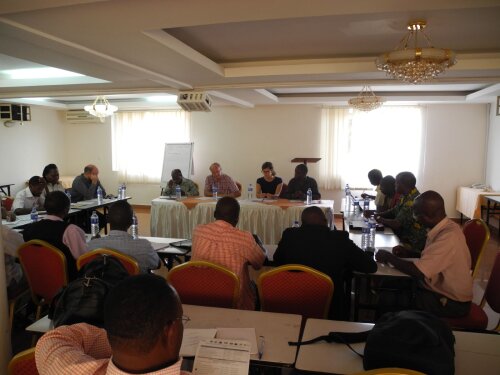 Both the Governance dissemination conference and the JSC meeting were engaging and interactive, as members of both platforms were able to exchange and learn from each other. It goes without saying that the Platforms are eagerly looking forward to the findings and recommendations of the external evaluator.
Doctorate successfully defended
Medard Twinamatsiko of the Mbarara University of Science and Technology (MUST) was one of the 7 selected scholars of the second HEFS Harvest Call. His Short research Stay took place from 14 February until 13 May 2015. Prof. De Herdt of the Institute of Development Policy and Management (IOB) was his mentor during this time. Medard Twinamatsiko now reports on the defense of his doctorate on 5 November 2015: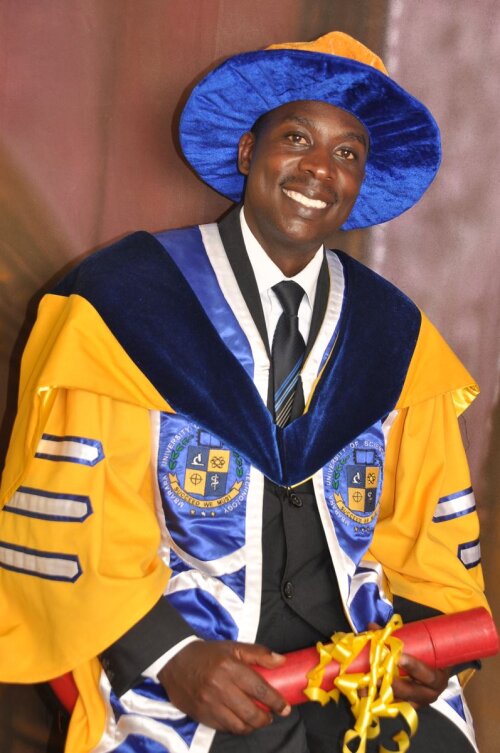 "Allow me to greatly appreciate your wonderful support under VLIR-UOS that enabled me concentrate and generate a great piece of work that I have continued to get commentaries on as 'an excellent piece'. I am profoundly honored to have been warmly welcomed and hosted in Belgium for three months and the valuable environment, and technical expertise that I received from IOB to concentrate and pass. To be very sincere, the three months of sleepless nights with your support paid off. When I returned to Uganda, I submitted my thesis to Mbarara University of Science and Technology for external examination. After three months of external examination in South Africa it was returned indicating that I had passed.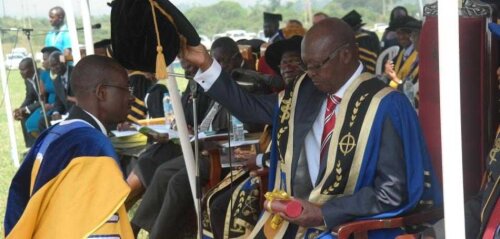 Consequently I defended in November 2015 and graduated January 2016. I will remain indebted to you and the entire VLIR-UOS fraternity. I still remember a very warm welcome I received at your campus. This was a memorable event! Thank you for the courtesy. I look forward to much more collaborations especially in the area of policy management and natural resource governance. This is indeed a success story."
Dr. Medard Twinamatsiko
VLIR-UOS selected beneficiary 2015
New Ugandan coordinator of the HEFS Platform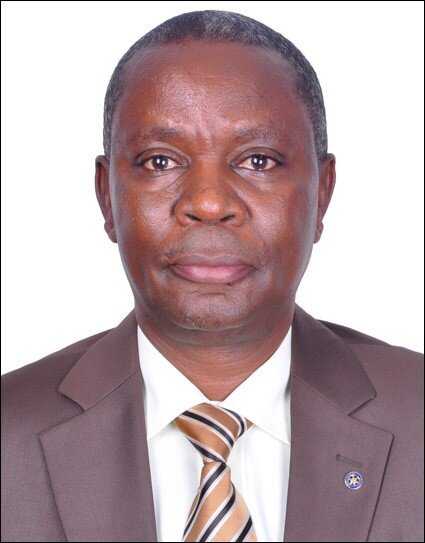 Effective February 2016, Associate Professor Charles Tushabomwe-Kazooba became the new Coordinator of the HEFS Platform, replacing Prof. Pamela Mbabazi who served the platform during the first two years of its existence. We wish to congratulate him on this appointment! In what follows is a small profile sketch of our new Ugandan coordinator.
Associate Professor Charles Tushabomwe-Kazooba holds a Doctor of Philosophy degree in Sustainability Accounting and Reporting from the Mbarara University of Science and Technology. Next to that, he also holds a Master of Business Administration and a Postgraduate Diploma in Business Administration from the University of Birmingham, UK. He did his Bachelor of Commerce at Makerere University, Uganda. He has extensive administrative and management experience particularly in the University education and training sub-sector.
As. Prof. Charles Tushabomwe-Kazooba is an experienced researcher with over 30 publications in renowned referred journals and has facilitated at national and international conferences. He is very committed to teaching and supervises both postgraduate diploma and Masters Students, as well as PhD students.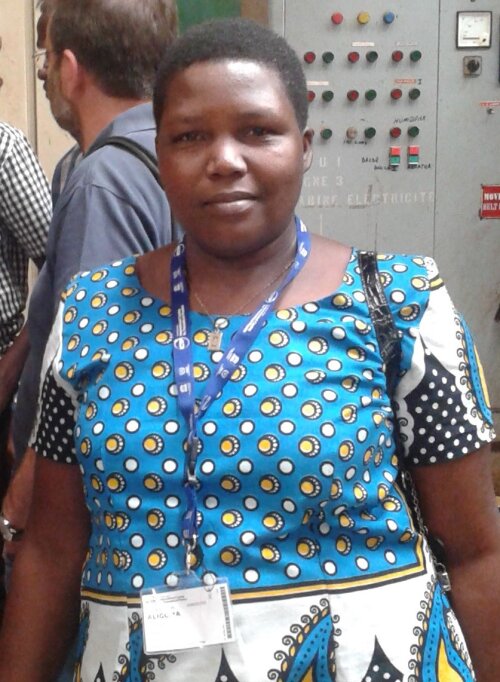 At the beginning of 2016 Ms. Winfred Aliguma was officially appointed as the new Manager of the Health, Environmental and Food Security Platform ("HEFS"). She is replacing Ms. Edith Wakida, who has now embarked on a new professional endeavor, amongst others pursuing a PhD. Winfred has been working for Mbarara University of Science and Technology since June 1997. After holding several positions, she was finally promoted in 2009 to Personal Secretary in the office of the Deputy Vice Chancellor. Winfred holds a Master's Degree in Local Governance and Planning, a bachelor's Degree in Information Technology and a Diploma in Secretarial Studies. During her career she has attended several workshops and short courses locally and abroad. Winfred sees the HEFS platform as very promising indeed: "It is playing a fundamental role of strengthening research capacity, North-South and South-South collaborations to address Health, Environment and Food Security, thus helping to address issues of poverty and enable communities to achieve socio-economic development." We wish her a very fruitful start of the year and a lot of satisfaction in her new appointment!
Selected candidate Medard Twinamatsiko visits IHU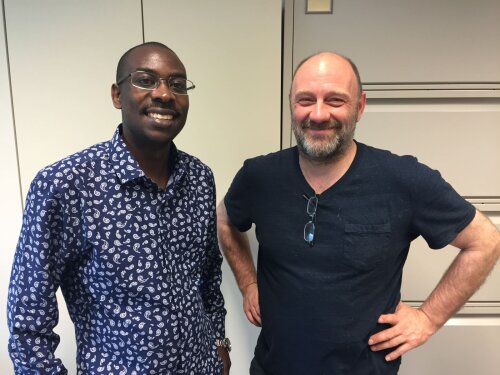 After a Call for a Completion Grant within the VLIR-UOS Uganda Platform several PhD students were rewarded a short research stay (SRS) in Belgium. Mr. Medard Twinamatsiko of the Mbarara University of Science and Technology (MUST) was one of the 7 selected scholars of the second Call.
During his SRS, which took place from 14 February until 13 May 2015, Mr. Twinamatsiko was appointed a mentor who guided and supported him in his research. Prof. De Herdt of the Institute of Development Policy and Management (IOB) successfully took up this role.
The titel of this research conducted is "Linking Conservation to the Implementation of Revenue Sharing Policy and Livelihoods of People Bordering Bwindi Impenetrable National Park".
Before his depature to Uganda, Mr. Twinamatsiko gave us an update on his time spent in Antwerp and his research done at the IOB: "It has indeed been fascinating to have this time here for my PhD. I am happy the major outputs are achieved. I greatly applaud Prof. De Herdt for making the necessary requirements for me to achieve the targets amidst his busy schedule. I remain indebted to the IOB fraternity. A journal paper is already submitted to and acknowledged by the Journal of Social Sciences Research and I finalized the second draft of my thesis last month. I am now working on the 3rd draft which I hope to submit to my mentor and supervisors before I go. I have been also had a chance to present my work and receive feedback at various fora. I have also attended major courses in my discipline. All this is important both for my PhD completion and also my work. I look forward to further collaboration and fellowships since conservation, environment and development are now key areas of national and international hub. Overall, thank you to VLIR-UOS for my financial support and the UA coordinators for the mental and moral support in all."
Official Launch of the Platform
On 20 February 2014 the two VLIR-UOS research platforms in Uganda were officially launched at the Uganda Christian University in Mukono.
One of the two platforms in Uganda, the "HEFS platform", focusses on Health, Environment and Food Security. It is thus driven by scholars who are interested in understanding the relevance of the family in promoting food security, a healthy wellbeing and environmental sustainability. The coordinating universities of this Platform are the University of Antwerp in Belgium and Mbarara University in Uganda. Eight other Ugandan universities, four Flemish universities and three Flemish university colleges are currently involved.
Joining hands with the colleagues of the other Platform in Uganda, the Governance Research Platform, all relevant and interested stakeholders within the different projects were brought together on 20 February in Mukono. Next to them, the Ugandan minister of Higher Education Dr Muyingo and the Belgian ambassador Hanssen also attended the official launch.
It was a successful event indeed, although it did not go by undiscussed. The Belgian ambassador to Uganda openly criticized the then impending anti-homo law in the country. The minister and counselor reacted with a snappy response and in the days following the launch online forums of national newspapers thrived with vivid discussions. Since then, the Ugandan president Museveni signed the bill. Despite this promising start of the Platforms in Uganda, VLIR-UOS too is concerned about the anti-gay law which has been approved in the country.