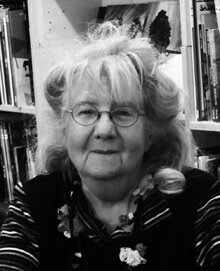 Séminaire international en ligne
3-4 mai 2021
Séminaire en français
Veuillez-vous inscrire par e-mail à ijs@uantwerpen.be

In memoriam: Régine Robin, 1939-2021
Régine Robin reste sous-exposée, aussi bien dans le milieu académique français que francophone et plus généralement international.
Ni en France, ni au Canada, elle n'a reçu l'attention que son oeuvre mérite. Robin étudia la culture de la mémoire, principalement relative à la Shoah, mais pas exclusivement. Elle s'est penchée sur « le roman mémoriel», «la mémoire saturée», l'espace muséal et le roman post-identitaire à l'ère du numérique. Ses essais sur Kafka, Modiano, Perec, Derrida et bien d'autres en font une figure incontournable de la critique contemporaine française qui devrait se trouver aux côtés de Marthe Robert, Paul Ricoeur et Albert Memmi. En tant qu'historienne, elle a également été l'auteure d'une oeuvre de fiction limitée mais marquante: La Québécoite, L'immense fatigue des pierres, et plus récemment Ces lampes qu'on a oublié d'éteindre (Editions Boréal, 2020). Dans Un roman d'Allemagne, Robin renoue avec ses réflexions de l'époque, et son vrai nom, Rivka Ajzersztejn.
Née à Paris à la veille de la Seconde Guerre mondiale, Régine Robin est décédée subitement le 3 février 2021 à Montréal, alors qu'elle mit fin à un vingtième livre.
Avec ce séminaire, nous rendons hommage à une oeuvre pertinente et aux multiples facettes.
Organisé en collaboration avec la Fondation Auschwitz et avec le soutien financier du Raad Dienstverlening de l'Université d'Anvers.
Programme

(heures indiquées CET, fuseau horaire Bruxelles)

Lundi 3 mai 2021

15.00 – 15.15 Accueil et introduction par Kathleen Gyssels et Vivian Liska | Université d'Anvers

Session I: présidée par Vivian Liska | Université d'Anvers

15.15 – 15.45 Danièle Dumontet | Johannes Gutenberg Universität, Mainz
La mémoire de la ville: l'exemple de Berlin Chantiers et Un roman d'Allemagne
15.45 – 16.15 Hervé Sanson (ITEM/CNRS)
Albert Memmi/Régine Robin: à l'origine d'un texte demeuré inédit ou: Les croisées de la judéité (sur Le cheval blanc de Lénine ou l'Histoire autre)


16.15 – 16.30 Pause

Session II: présidée par Piotr Sadkowski | Université Nicolaus Copernicus

16.30 – 17.00 Christophe Ippolito | Georgia Institute of Technology, Atlanta
L'immigration comme itinéraire réflexif dans La Québécoite
17.00 – 17.30 Kathleen Gyssels | Université d'Anvers
'Connexe et concave': l'écriture-niche d'André Schwarz-Bart et Régine Robin



20.00 – 21.00 Conférence plénière: Catherine Mavrikakis | Université de Montréal
Vérités et fictions de Régine Robin

Mardi 4 mai 2021

Session III: présidée par Agata Mozolewska | Université de Montréal

15.00 – 15.30 Elisabeth Brami | écrivaine, France
Le jour où j'ai rencontré Régine Robin
15.30 – 16.00 Christa Stevens | chercheure indépendante
L'écriture de la prothèse. Lire Régine Robin avec Derrida.
16.00 – 16.30 Stella Behar | University of Texas, Rio Grande Valley
Régine Robin: L'immense fatigue des pierres: Réhabiliter une réalité historique à partir de la cyber-fiction


16.30 – 16.45 Pause

Session IV: présidée par Annelies Augustyns | Université d'Anvers

16.45 – 17.15 Susan Rubin Suleiman | Harvard University
Nous autres: Régine et l'écriture de la 'génération 1,5'
17.15 – 17.45 Agata Mozolewska | Université de Montréal
Régine Robin et Patrick Modiano



Brochure

Cliquez ici pour télécharger la brochure du séminaire.

Article in memoriam Régine Robin

L'article "In Memoriam Régine Robin (1939-2021)" de la Prof. Kathleen Gyssels (UAntwerpen) est paru dans le numéro 118 de la revue Dalhousie French Studies (2021).
Cliquez ici pour lire l'article.
Appel à communications

« Robin chantiers » : liance, reliance, et déliance dans les écritures de Régine Robin

​Appel à communications pour un collectif autour de l'oeuvre de Régine Robin.