At the laboratory of adsorption and catalysis there is different equipment available for analysis and testing of samples. Spectroscopic techniques are used for the determination of the nature of the chemical bonds in a sample.
The different spectroscopic techniques available are:
Sorption techniques are used to examine the surface of a sample (surface area, pore volume, pore size distribution, acidity, ...).
Both automated as manual sorption equipment is available at LADCA.
Elemental analysis techniques can be used for the qualitive (determining what elements are present) and quantitive (determining how much of each are present) analysis of samples.
The different elemental analysis equipment available at LADCA are:
Purpose:
Water quality control of industrial effluent, rivers,… (Industrial scale)
Supplying additional information concerning the degradation process of organic molecules in a photocatalyst test-setup (academic scale)
Equipment:
SHIMADZU TOC-Vcph. TOC values are obtained by measuring TC (total carbon) and IC (inorganic carbon) and substracting the IC concentration from the TC concentration. TC is measured by oxidation of the injected sample to carbondioxide by a catalyst-filled combustion tube heated at 680°C. IC concentrations are measured by acidifing the sample. The generated carbondioxide is measured with a non-dispersive infrared detector. To protect the detector from damage, a halogen and sulphur scrubber are installed.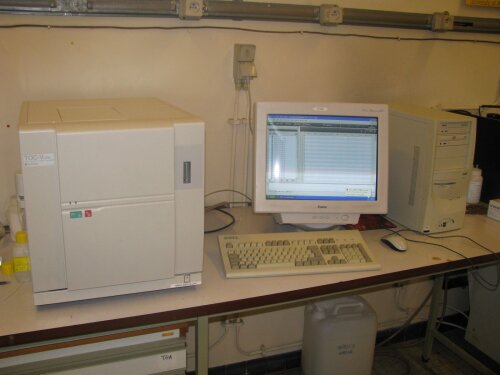 Accessories:
Gas injection kit. This equipment allows analysis of very small volumes (~50 µl) of a gas or liquid and can only be performed by manual injection with a high precision syringe.
Thermogravimetric analysis
Using thermogravimetric analysis the weigth of a sample can be monitored as a function of temperature.
Purpose
Thermogravimetric Analysis (TGA) is a technique for measuring changes in mass as function of temperature. This technique is used to determine the composition of substances and finds application in the chemical and pharmaceutical industries. From TGA curves, data on the kinetics and thermodynamics of the various chemical reactions, reaction mechanisms, reaction intermediates and final reaction products are obtained.
By connecting the thermogravimetric analyser with the Hiden HPR quadrupole mass spectrometer eluating gasses can be identified until 300 u.
Equipment
Mettler Toledo TGA/DSC 3+. Isothermic and dynamic temperature programmes are possible. Due to the presence of 6 thermocouples calorimetric data can be obtained.
temperature range: 20°C - 1100°C
resolution: 1 ppm
sample mass: 1 - 250 mg
possibility to switch between different gasses and flows (Ar, N2, O2, Air)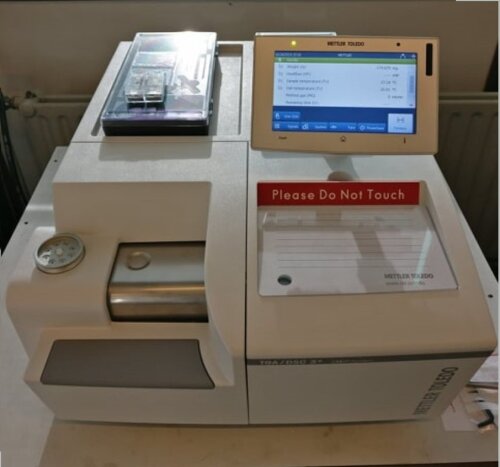 At LADCA there is different equipment available for the catalytic testing of samples:
The next gas detection techniques separate and/or identify the reagens and reaction products. They are connected to the reactors, the Chemstar or the thermogravimetric analyser.