An overview of recent events in µNEURO and/or the µNEURO research groups:
µNEURO Workshop PhD apps​

On the 31st of March, we brought together researchers with different backgrounds to discuss their favourite scientific software in our workshop "PhD apps".
We tackled a diverse array of tools for analysis of human walking patterns, MRI, PET and microscopy images, mixed with some tools useful for daily research activities.
The workshop provided a nice opportunity to explore the interdisciplinary horizons beyond our individual research groups and to interact with other µNEURO members. More information.
IMARK & µNEURO Seminar: Synergies from Research to Valorisation
On the 25th of March, we had the first live meeting with our µNEURO Research Centre of Excellence, together with our colleagues from the IMARK IOF-consortium.
We had an interesting seminar with presentations from researchers of the different groups, addressing recent research, valorisation and collaboration projects.
A great opportunity for sharing the work within our consortium, providing new inspiration to continue our interdisciplinary neuro-research.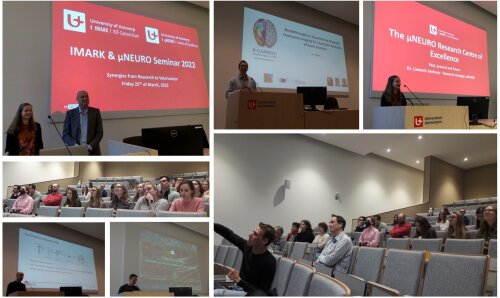 #meetmuNEURO campaign on social media
In light of the Brain Awareness Week, we introduced the world to the brain research performed in our µNEURO consortium by sharing a daily update about one of the µNEURO groups.