An overview of recent events in µNEURO and/or the µNEURO research groups:
​

In October, researchers from different µNEURO labs organized a

fun workshop to teach children all about the brain

, as part of the

'Proefkot' workshop series

. The young future scientists learned how the different parts of the brain work together, what can go wrong in diseases and they even measured the electrical activity in their own brain.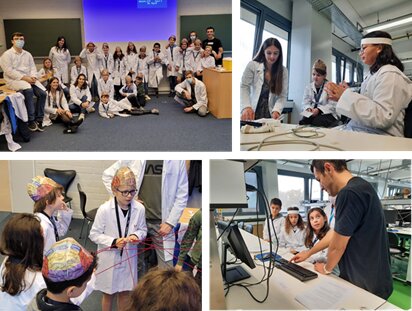 ​
On the 1st of July, µNEURO had the pleasure to host the webinar 'Discover EBRAINS'. The EBRAINS experts introduced the neuroscientists of UAntwerpen to the extensive set of services offered by EBRAINS, the new digital research infrastructure created by the EU-funded Human Brain Project.

After a general overview, the international speakers from EBRAINS addressed three of their main service categories: data and knowledge services, brain atlases and simulations tools. We closed the webinar with an interesting Q&A and discussion with the panel about how EBRAINS can support our own research.

​
The Bio-imaging Lab, Molecular Imaging Center Antwerp and µNEURO launched a series of Friday Lunch Webinars focussing on preclinical imaging.

​Webinar 1: What is MRI and what can you do with it in preclinical research?

23/04/2021, 12:30-13:30

Prof. Marleen Verhoye (Bio-imaging Lab)


Webinar 2: What is radiopharmacy and what can you do with it in preclinical research?

7/05/2021, 12:30-13:30

Prof. Filipe Elvas (Molecular Imaging Center Antwerp)


​Webinar 3: What is PET imaging and what can you do with it in preclinical research?

​28/05/2021, 12:30-13:30

Dr. Daniele Bertoglio (Molecular Imaging Center Antwerp)