Ann Verhetsel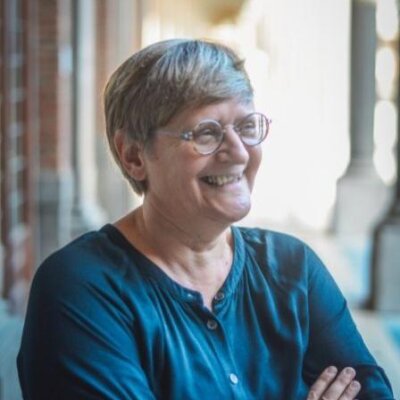 Ann Verhetsel obtained a PhD in Science (Geography) with the Highest Distinction for her thesis on "The World in our Heads: On the Ability to Structure and Represent Spatial Information" from KU Leuven in 1989. Further, she studied spatial planning, obtained a postgraduate in didactics and a postgraduate in business economics. Since 1987 she has been affiliated with the University of Antwerp in different positions: Assistant (1987-1989), Postdoctoral researcher (1989-1993), Lecturer (1993-1997), Senior Lecturer (1997-2001), Professor (2001-2007), Full Professor (2008-present). Since 1995, she also teaches at the Antwerp Management School in the Master in Real Estate Management.
She fulfils her appointment at the University of Antwerp (research, education and services) in areas at the interface of Geography, Economics and Urban Planning. Ongoing research assignments under her leadership include projects and PhD's in the fields of mobility extensively on commuting, on smart specialization and new regional economic policy, strategic spatial projects, the geographical dimension of venture capital, networks within the logistics industry, the location of retail and the geography of urban logistics. Throughout her 25 year-long career, there have naturally been some shifts in emphasis within her research focus, however, the leitmotif continues to be centred around urban geography, transport geography, spatial planning and regional economics.
Ann Verhetsel is currently teaching the courses Business location (formerly Economic Geography) and Real Estate Markets and Location (formerly Regional Economics) at the Faculty of Business and Economics. She also gives class in Introduction to Human Geography and Historical urban Geography at the History department of the Faculty of Arts. Finally, she takes care of the Property Markets course in the Master of Real Estate Management at the Antwerp Management School.
In addition to her service functions within the University of Antwerp (currently head of the Department of Transport and Regional Economics), Ann Verhetsel was chairman of the FWO commission on the built environment during the past years. She also acts as referee for a wide range of international scientific organizations (such as NWO, ANR, ERC ...) as well as a large variety of (international) journals. She regularly resides in doctoral jury's at other Belgian and foreign universities and functions as a member of the Royal Flemish Academy of Sciences (Class Human Sciences).