Stijn Derammelaere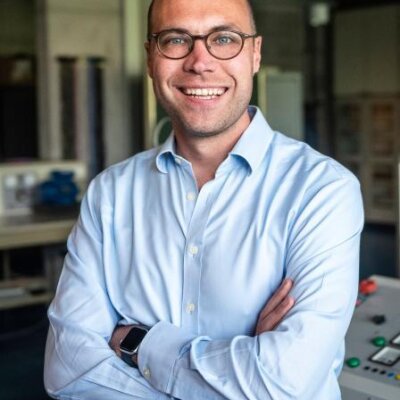 Stijn Derammelaere was born in 1984 in Kortrijk. In 2006 he obtained his Master's degree in Automation at the Hogeschool West-Vlaanderen. He obtained his doctorate at the University of Ghent in 2013 where he initiated research in the field of control technology, co-design of control technology and mechatronic systems and motion control of small electrical machines. Since 2017, he is a professor at the University of Antwerp, with a research focus on the optimisation of mechatronical systems.
Professor Derammelaere inspires his research goals on intensive collaborations with industry. In the industry, constructors of looms, agricultural machines, plate processing machines, 3D printers, production lines and logistics companies all operate in a competitive international market. Moreover, there is a worldwide trend towards more autonomous systems. To maintain and increase their market share, these machine builders need to improve their machines in terms of productivity, energy consumption, quality and robustness at a minimal cost.
The design and engineering of these machines is increasingly based on optimisation. This enables the minimisation of the initial cost of the components and the electrical energy required to power these machines without compromising performance. In order to find the overall minimum which exploits the full optimization potential, different domains (such as geometry, embedded technology, ... ) have to be optimised simultaneously in a co-design approach. Therefore, an explicit model of the impact of the design parameters on the objective, such as the required electrical energy and costs, is required. However, collecting the data needed for such a high dimensional model results in an explosion of the number of simulations needed. That is why Professor Derammelaere's team is strongly committed to knowledge formalisation techniques with a minimum number of necessary simulations to enable co-design in a high-dimensional setting.
Department
Statute & functions
Zelfstandig academisch pers.
Internal mandates
expertenorgaan
expertenmandaat
mandaat
sociaal mandaat
bestuursorgaan
bestuursmandaat