Meet our alumni
Find out where their degree brought them
If you choose to study Business Economics, you'll become a global student and citizen. Over the past decade, we've had graduates from 59 different countries such as Vietnam, China, Germany, Turkey, Greece, Germany, Mexico, Canada, and so on.
Our alumni work in 46 countries all over the world. More than 85% found a job within 6 months after graduation. Some became consultants, business developers, auditors, managers... for organisations like the European Commission, PwC, Deloitte, Katoen Natie and The National Bank. Others became researchers at top universities or founded their own company.
Hop
is an international student from Vietnam
Arpan
an international student from India
Melissa (Uganda)

"My name is Melissa Sibihwana. I'm from Uganda and I'm a Master's student in Business Economics.


The Master's programme is very contemporary, modern and informative. It is quite intense and it challenges you but I already feel that it's going to be very useful. Particularly because of my major. I like the fact that we apply concepts that we learn here into the workplace. A lot of our projects are linked with professional life, so I already have several opportunities from here on.

The teachers are very helpful and open. I haven't encountered any professors so far who are this willing to go out of their way to help you. I find that very refreshing about the university. The administration is quite helpful too. They're always willing to find a way to accommodate us, especially international students.

Finally, I like the fact that Antwerp is small but at the same time you can meet a lot of people from different cultures. It's a very multicultural city with lots of historical sites to visit, a lot of art history, musea,… it's a beautiful city, I love it here."
Cansu (Turkey)

Cansu is originally from Turkey and is now working in Antwerp as a Marketing Operations Specialist at Tennant Company.

"My study abroad experiences has transformed me into a competitive player in the marketplace by building up international mindset. Nowadays, companies seek candidates who are open to new challenges and experiences, value differences, can work in teams crossing cultural boundaries and can easily adapt to new workplace settings."
Mirella (Hungary)

Mirella is a Marketing Specialist at DSV, one of the leading global transport and logistics companies. "As part of the Business Development team, I am responsible for marketing and involved in all commercial areas. My job is a very exciting mix of different commercial responsibilities and projects connected to sales, marketing and account management. As the marketing responsible for the contract logistics division in Belgium, I manage the local content on our website and social media accounts, as well as support our HR team in employer branding. I work together with our sales organisation on improving sales communication, on understanding better our prospects' needs and creating value based and targeted commercial offers.


Internship to full time job

"Luckily for me, finding a job after my studies worked out perfectly thanks to the University. As part of our European Trade and Integration course, the class has been involved in a project with DSV. Following the successful work we did during the semester, the company granted summer internships to some students, including myself.

Three years later I am still here. My responsibilities expanded, my role has evolved and I am still fostering a great collaboration with the manager who hired me in 2017! It is quite difficult to find a job in Belgium without speaking Dutch or French, however, the university project gave me the chance to showcase my motivation and skills, which proved to be enough to convince the company to give me a chance. Since then, with their ongoing support, I started to learn Dutch."

International experience

Mirella majored in Marketing with a minor in International & European Management, which was a perfect combination to provide her with the academic background for her current work environment. "The content of the courses was very up-to-date and reflected on the current hot topics around the world. Actually, the entire year was an international experience. After finishing my undergraduate degree in Hungary, I started my professional career by doing internships in Antwerp and London.

Coming back to Belgium to start a Master's degree was a very important life decision, and a great one - Antwerp is a vibrant, culturally exciting European city, where I feel like I am at home and on a great adventure at the same time. From a professional standpoint, Belgium is an important hub in the global transportation industry. International mobility during and after my studies enabled me to experience different communities and have a better understanding of where I want to live and work."
Merve
about studying at the UAntwerp during the pandemc
Gözde
an international student from Turkey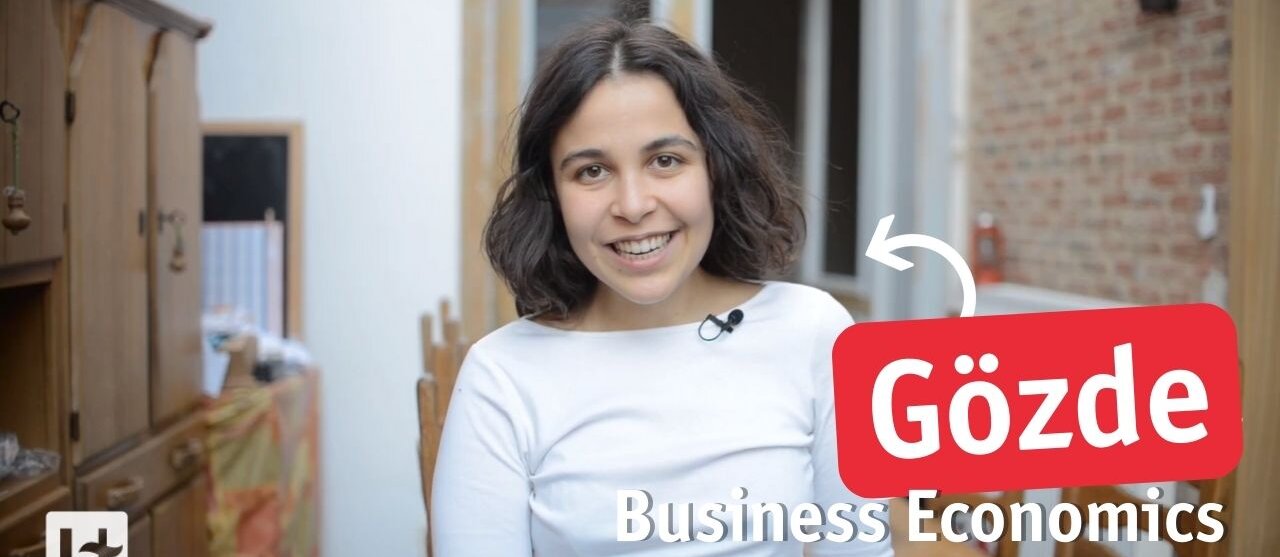 Antwerp is a vibrant European city, where I feel like I am at home and on a great adventure at the same time.