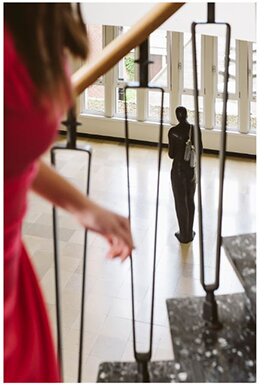 Art is everywhere at the University of Antwerp. The collection comprises about 1,100 paintings, sculptures and other forms of contemporary art.
Masterpieces by Sam Dillemans and Fred Bervoets grace the walls of the Stadscampus buildings while sculptures by Yvan Theys and Jean Bilquin repose in the grounds of the university's other campuses.
The Art on Campus Commission wishes to raise awareness of the visual arts among the university community and especially among students. The commission's main task is to acquire high-quality works of art and make them accessible. It is also responsible for making sure these works of art are displayed appropriately, taking staff sensibilities and working environments into account.
According to Ernest Van Buynder, the commission's chair, the presence of art has helped prevent vandalism on the University of Antwerp's campuses: 'Art subconsciously induces respect for one's environment. That's why we chose to put our paintings and sculptures on display around our staff members and students, rather than exhibiting them in a separate museum or gallery. Because art is like science: they are both groundbreaking.'
Guided tours
UAntwerp wishes to bring art closer to our teaching staff, students and visitors.
Museum to Scale
The Museum to Scale spans over a hundred 'rooms' with original work from contemporary Belgian artists, from paintings to complete installations