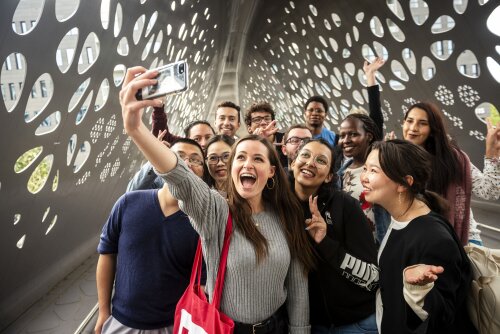 This slogan is what drives the University of Antwerp to bring about positive change and take on challenges within society.​
Discover the university's mission statement and learn how the long-term vision is brought to life through cutting-edge research, including academic teaching and active community engagement.
Through its free and innovative research, student-centred academic teaching and targeted service to society, the University of Antwerp aims to have a valuable impact on the development, dissemination and use of scientific knowledge. In this way, UAntwerp aims to permanently strengthen its commitment to the further development of a sustainable world and a democratic and inclusive society founded on human rights.
The University of Antwerp understands its core tasks as follows:
Academic teaching, focusing on the person as a whole
Creative and innovative scientific research
Service to society and engagement based on our own expertise
Forward-thinking valorisation of knowledge, with sustainable solutions for humans and the world
The University of Antwerp is guided in these tasks by the following distinctive lines of strength:
Excellence emerging from a culture of quality, supported by a caring work and learning environment
Academic freedom based on scientific integrity
Students as full and co-creating partners
At home in the city, but with a view to the world
Diversity as added value, inclusivity as the standard
Active pluralism as a basis for dialogue
Encouragement for collaboration and interdisciplinarity
Discover UAntwerp's mission and vision