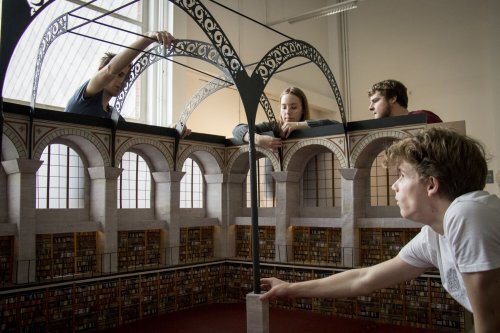 In its teaching, research and service to society, UAntwerp follows a resolute course, characterised by a number of distinctive lines of strength.

Excellence emerging from a culture of quality, supported by a caring work and learning environment

The University of Antwerp aims for further development, with intensive and ambitious commitment to all domains within which it is active. To this end, it works to develop a work and learning environment in which staff and students have the opportunity to excel. At the same time, the university devotes attention to and ensures both collective wellness and the personal well-being of each individual.


The University of Antwerp is characterised by a culture in which professional conduct and quality assurance are self-evident, proceeding from mutual trust.

UAntwerp strives to ensure respectful interaction amongst and between students and staff. It contributes to the well-being of students by adopting an integrated approach to their reception and guidance, as well as by addressing various academic, social, psychological and material challenges. Its human resources policy combines the pursuit of excellence with a work environment in which shared responsibility and empathetic leadership allow for a path of growth and development that takes into account everyone's talents.
Academic freedom based on scientific integrity

UAntwerp guarantees its staff and students the opportunity to think freely about scientific questions and research methods, as well as to report their research results. This academic freedom also applies in teaching and whenever members of the university community participate in the public debate based on their expertise. At the same time, the university expects its staff and students to use this freedom with integrity and, in the process, to avoid submitting to dogmatic restrictions, personal gain, outside interests or other non-scientific motivations.​

Students as full and co-creating partners

We aim to realise the academic and societal ambitions of UAntwerp through mutual responsibility with students. Our baseline—'Let's define the future!'—reflects the fact that our students also play a major role in designing this future. UAntwerp realises its mission and vision in co-creation with and with the participation of its students. Through engaged effort and an appetite for and appreciation of initiative, the university cultivates a sense of responsibility amongst its students so that they can work together as full partners in the design of the institution's academic and societal policy.

Students wishing to serve as student representatives or who would like to help enrich the experiences of their fellow students receive support for these forms of engagement. Every student receives the opportunity to develop both within and outside the walls of the university, and to help build UAntwerp and the future.
At home in the city, but with a view to the world

Due to its history and location, the University of Antwerp is closely tied to its unique urban environment. It Plays and active and involved role in regional and urban development, including in social, economic, educational, cultural and ecological terms. The university is therefore a natural partner for various actors, including the city and port, the province, business and civil society organisations. UAntwerp attaches particular importance to the structural collaborative partnerships with Antwerp University Hospital, the Antwerp Management School, the Institute for Tropical Medicine and the Antwerp University Association.


The University of Antwerp regards the Antwerp region as a laboratory of the metropolis: the region is an international meeting place for researchers and students who can use the exchange of knowledge, academic research and cultural perspectives to contribute to building up society and providing answers to the global challenges of our times.

The University of Antwerp encourages internationalisation and global engagement in the areas of teaching, research and service to society. It is an active player in the international scientific world, and it is a leader in networks of partners from the whole world, including the Global South. The university is committed to both sending and hosting researchers, lecturers and students from throughout the world, as well as to expanding scientific collaboration.
Diversity as added value, inclusivity as the standard

UAntwerp regards diversity as a source of enrichment to humanity and the world, as a vital element of our society. For the university, this calls for a policy aimed at inclusiveness, emerging from mutual respect, and proceeding from the basic principle of equality amongst people.

The University of Antwerp aims to attract students and staff in all their diversity and to provide each individual with equivalent opportunities to develop and apply their talents. It makes a targeted effort to improve inflow, progression and outflow of students who face unequal opportunities for various reasons. Within the university community, students and staff can count on personal recognition and guidance.
Active pluralism as a basis for dialogue

The University of Antwerp is actively pluralistic and, in this vein, it seeks to encourage a substantive dialogue between individuals and groups, each with its own interpretations and ideological convictions.


The university ensures an open forum, within which all topics are open to discussion and within which everyone can be heard in mutual respect. It invites everyone to participate and to seek nuance, with an active interest in each other's basic principles.
Encouragement for collaboration and interdisciplinarity

Today's societal challenges, and particularly the wicked problems, are explicitly transdisciplinary and global. For this reason, the university encourages multidisciplinary, interdisciplinary and transdisciplinary partnerships at the local, regional and international level.


The University of Antwerp encourages connection between various scientific fields, and it attempts to avoid compartmentalisation in research, teaching and service to society. In this way, it also creates additional opportunities for innovative social entrepreneurship that better corresponds to the active needs of citizens within society.

The University of Antwerp is open to partnerships throughout the world and in all scientific fields, based on mutual trust and on the condition that they correspond to the university's mission and values, with respect for academic independence. UAntwerp emphasises its engagement for equal collaboration and partnerships worldwide, and particularly in the Global South.

Collaboration, both internal and external, is woven into the DNA of the University of Antwerp. The university and its staff are enthusiastic partners on which people can rely: reliable, loyal, constructive and critical.

​