Students meditate in Mindfulnests
Soundproof cabins in University of Antwerp library are a first for Belgium.

A first for Belgium: a Mindfulnest was installed in two libraries of the University of Antwerp. In that soundproof cabin, students and staff can retreat for a while and follow a guided meditation.
UAntwerp pays attention to the mental well-being of students and staff in many ways. To give anyone who needs to take a break from the hustle and bustle and stimuli of everyday life, the university acquired two 'Mindfulnests': a soundproof cabin with soft furnishings for anyone who needs a moment to themselves.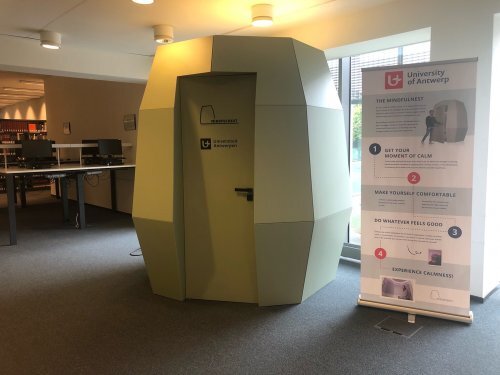 An iPad allows the user to choose the programme of their choice. 'You can choose a light colour and intensity, and you can listen to serene soundscapes or a guided meditation, but you can also just enjoy the silence or even doze off', Pim van den Bos, the Dutch creator of Mindfulnest, says.
More focus while studying
When Van den Bos was facing personal problems, he found solace in mindfulness. He came up with a soundproof cabin for meditating and ran a pilot project at Maastricht University. There, the Mindfulnest was particularly well received. On average, the three Mindfulnests at the Maastricht University libraries are used about 400 times a month.
'Research into their impact on the well-being of students and staff shows that 85% of users report feel more focused while studying after use', Van den Bos says.
Made from recycled materials
At the University of Antwerp, the Stadscampus and Campus Drie Eiken libraries will each receive a nest. The project is supported by the University Library and the Department of Social, Cultural and Student Services.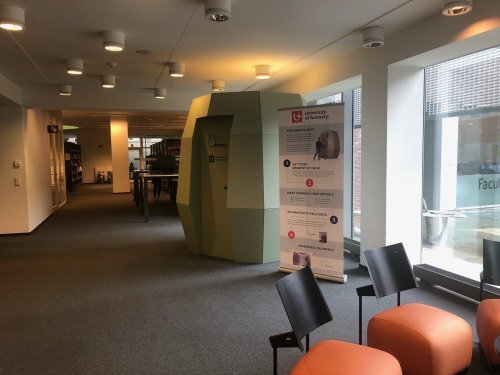 'In times when more and more students and staff suffer from stress and burnout, we want to give them moments of rest and relaxation, and improve their well-being and focus with the Mindfulnests', Veronique Rega (University Library) says.
The cabins are manufactured in the Netherlands with recycled and sustainable materials such as cork and felt, and are designed so that every part can be reused. The Mindfulnest is soundproofed, ventilated and equipped with an internal sound and light system, a seat cushion and an ergonomic chair.