Where to find water taps?
City Campus
2 in komida
2 in K-block
1 in E-block (near sanitary,opposite the sports hall)
1 in R-block (ground floor)
1 in Zomaar een dak (Prinsstraat )
1 in Campus Mutsaard (main building on the 1st floor)
1 in 't Brantijser
Campus Middelheim
2 in komida D- block
3 in G-block (near sanitary on 1st, 2nd and 3rd floor)
Campus Groenenborger
2 in komida Y- block
1 in T-block ( infront of sanitary, ground floor, big hall)
1 in U-block ( groundfloor)
6 in V-block ( on each floor 1)
5 in Z-block ( on each floor near sanitary)
Campus Drie Eiken
3 in komida G-block
1 in A-block (groundfloor, near toilets and artwork)
1 in B-block (near showers on groundfloor)
1 in N-block (welcome hall, ground floor)
1 in O-block (groundfloor in room where vending machines are)
1 in R-block (hall groundfloor)
1 in S-block (welcome hall, between sanitary )
Different types of drinking bottles are for sale at all komida locations for € 4,00 per piece.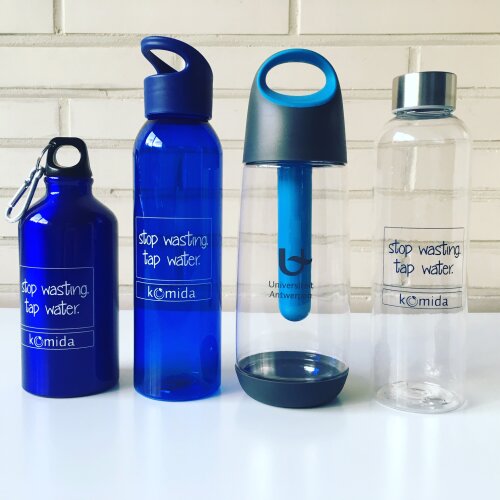 Stop wasting. Tap water. Why?
UAntwerp wants to get rid of all plastic water bottles, as the amount of waste that it causes is not at all sustainable. The solution? Water dispensers and drinking bottles.
"In our student restaurants bottes of water are sold a lot. Even so we applaud to drink more water, the amount of plastic was worrying", says Catherine Ongenae, team manager Catering and Conference rooms. "Besides our health, sustainability prevails at our team and that includes as little waste as possible. These large amounts had to go down, so we asked our environment and communication department to help us."
Filling up the drinking bottle
"We encourage students to replace their bottle of water by a drinking bottle. You can bring one of your own or buy one of our UAntwerp drinking bottles. They are not expensive,€ 4,00, environment friendly produced, dish-washer safe and it holds 50 tot 70 cl of water."
"Filling your drinking bottle is possible at different spots on campus. Ideally we would like one water dispenser in each building and of course you can fill them up in one of our student restaurants for free. Besides water taps, 'goosenecks' are being placed at the sinks to ease tapping. "
Water campaign
"We put up posters to get everyone on board with the no- plastic story. Our social media campaign at launch, allowed anyone with a photo to lead by example, and win a coupon for lunch at our restaurant.
The ultimate goal speaks for itself, we want to see as few plastic water bottles as possible.
In our restaurants there is no more still or sparkling water on the shelves!"