Research professor Nele Wynants (UAntwerpen) is working on a project around spreading scientific knowledge, new technology, and visual culture at the fair (SciFair). She takes us back to a time when Théâtre Mécanique Morieux and Dr. Spitzner's Grand Musée Anatomique were among the most popular attractions. You can read the full article (in Dutch) here.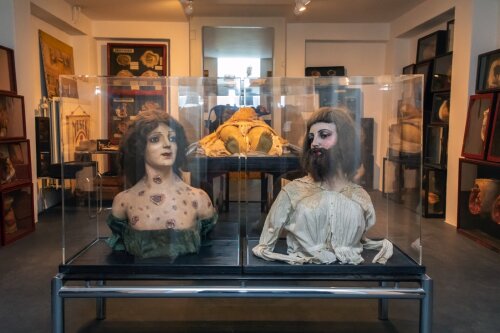 Wax figures including a 'woman with a beard' on the right were also displayed at the fair, from the Roca museum © Charlotte Lybeer, Coolen family collection
​

Dinosaurs in Catholic Schools?
​Wouter Egelmeers (KU Leuven) wrote a thought-provoking blog for Cultuurgeschiedenis on why Catholic school children were taught about dinosaurs in the 1920's. You can read it in Dutch here.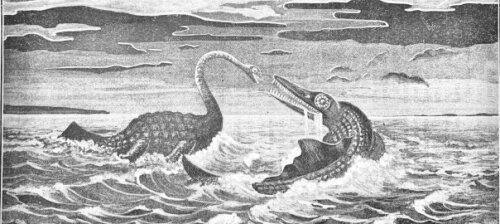 ​Fight between plesiosaurus and an ichtyosaurus, pictured in Moreux, D'où venons-nous. Photo by Wouter Egelmeers.​

​Nelleke Teughels on the lantern during 'Interne Keuken' (Radio 1)
On 18 September 2021, Nelleke Teughels (KU Leuven) was a guest on the radio show 'Interne Keuken'. Read more about it here or listen to the show here (from 39:50; link only available for up to 1 month after the show).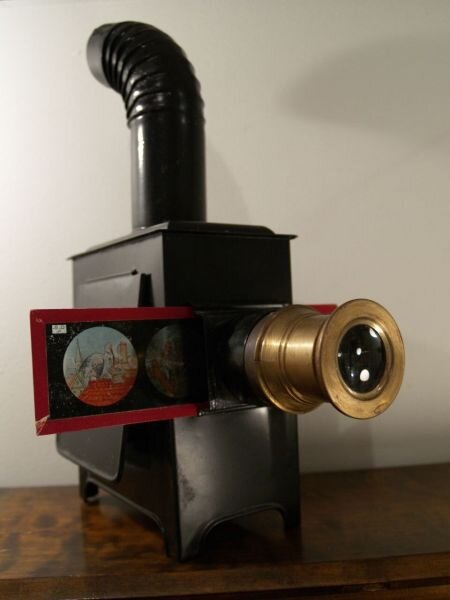 Wouter Egelmeers and Nelleke Teughels in EOS Wetenschap
The lantern is featured in the latest issue of Eos Wetenschap! B-magic's Wouter Egelmeers and Nelleke Teughels (both KU Leuven) reveal the optical lantern's hard-won introduction into the classroom on pp. 74-77. "Teachers had to look for or create their own lantern slides; in classrooms that often weren't even provided with electricity."
Find out more here.

B-magic and the lantern at Erfgoeddag 2021 in Ghent
Researchers from B-magic and Mystery Lab have joined forces in a mysterious event that centred around the magic lantern during Erfgoeddag 2021. They mapped out an interactive tour with demonstrations and installations by renowned lanternists and performers. Find out more about the programme here. You can watch the compilation video with interesting highlights below:
Red Dead Redemption Lecture
On 14 December 2020, the bachelor students of Theatre, Film and Literature Studies at the University of Antwerp were treated to a lecture in the Playstation game 'Red Dead Redemption 2' by three professors, among whom was our B-magic spokesperson Kurt Vanhoutte. Since the lecture was live, it came with its challenges. In these times of online teaching, a lecture has never before been so exciting and unpredictable. Read (and watch!) more here.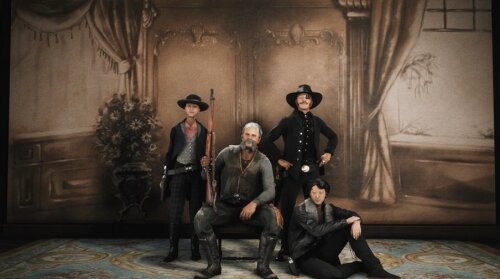 B-magic in Belgian Newspaper De Standaard
On 11 March 2020, B-magic was discussed in "Field Notes", a research appendix with 6 research projects at the University of Antwerp in the newspaper De Standaard. This appendix is a collaboration between the University of Antwerp and Field, a creative community with a focus on science communication, and presents the B-magic research project with photography, text and illustration.

Below you will find the beautiful pictures of the KAGA collection in the University Library of Antwerp, taken by photographer Griet Hendrickx.
B-magic on Radio 1

B-magic researchers Nele Wynants and Kurt Vanhoutte gave an interview about the magic lantern during the Culture Club broadcast of January 3 2020 on Radio 1.

B-magic in Dutch Newspaper Trouw

B-magic members Klaas de Zwaan and Evelien Jonckheere were interviewed about their lantern research at Teylers Museum. This interview was published in the newspaper Trouw on 2 November 2019.