Watch the compilation here!
'Teaching Redemption: theaterwetenschap en games' - compilation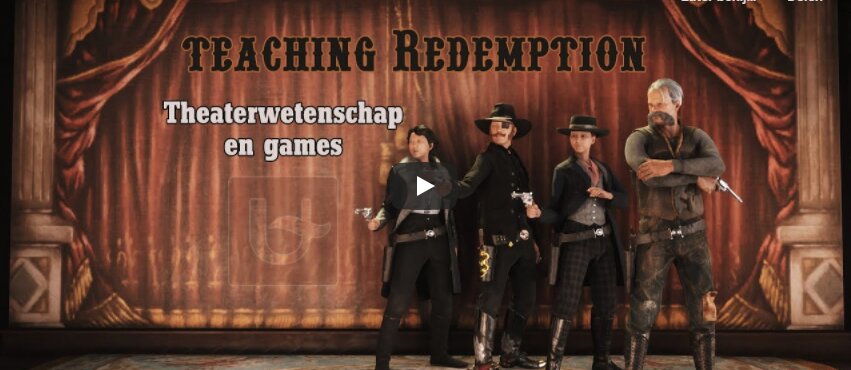 On 14 December 2020, the bachelor students of Theatre, Film and Literature Studies at the University of Antwerp had a unique experience. They were treated to a lecture in the Playstation game 'Red Dead Redemption 2' by three professors. The students were catapulted to the end of the nineteenth century and found themselves in an authentically reproduced environment. Since the lecture was live, it came with its challenges. Bloodthirsty wolves and highwaymen on horseback lurked in the shadows and had the power to sabotage and interrupt them. A lecture has never before been so exciting and unpredictable.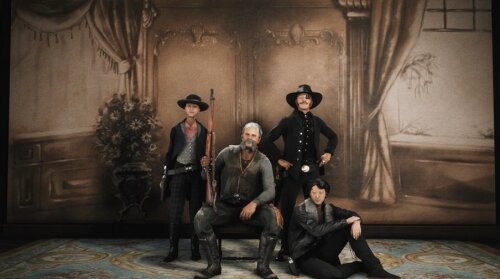 Via their characters, the professors showed their students around the Midwest - by horse, carriage or train. During this journey, the students learned about the concepts of 'theatricality' and 'remediation'. "Teaching through a game is not a gimmick for us", theatre scientist Kurt Vanhoutte explains. "The lecture revolves around theatricality in new media and technology, such as gaming. How is theatre evolving in our society? Which characteristics of theatre can be found in video games? With this lecture, students can experience the subject matter first hand and through the medium in question."
"It is an experiment", shares Benjamin Verhoeven, teaching assistant in the Theatre Science programme. In the game, his character acts as the camera for those watching at home. "In these times of corona, students primarily attend lectures online. It has become increasingly obvious that online education should be more than just a carbon copy of a standard lecture. Games allow us to reinvent, or at least redefine, concepts such as live presence, interaction, and knowledge exchange.
Magic lantern as a mass medium
Within the game's temporal context, the magic lantern is the visual mass medium par excellence. During the lecture, the students visited the Fontana Magic Lantern Theatre, where lantern shows are regularly projected. Researchers at the University of Antwerp are studying this medium in the B-magic project. Nele Wynants is thrilled with its possibilities: "Very little is known about this mass medium from the past with the general public. In Red Dead Redemption, however, it is part of the mainstream! The creators of this game have done their research very thoroughly, since the magic lantern is depicted in a realistic and correct manner. By way of the game, I can showcase the lantern's workings."
Lecture by:
​Kurt Vanhoutte, theatre scientist at the University of Antwerp
​Nele Wynants, art historian at the University of Antwerp and Université Libre de Bruxelles
Benjamin Verhoeven, teaching assistant at the University of Antwerp
​Sarah Lugthart, lecturer at the St. Joost School of Fine Art & Design​
Eric Joris, theatre maker and artistic leader of CREW​
Find out more:
Article in Nieuwsblad, 15/12/2020
Article in Het Laatste Nieuws, 14/12/2020
Article in Gazet van Antwerpen, 15/12/2020
News report during the 14/12/2021 VTM evening news (19h)