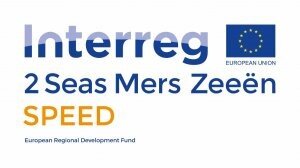 Project name: Smart Port Entrepreneurial Ecosystem Development
Project Type: Interreg 2 Seas*
Project partners: Antwerp Management School (lead partner), Universiteit Antwerpen, Université de Lille, Stichting Katholieke Universiteit Brabant, University of Bournemouth, Portsmouth City Council, Nxtport, CITC-EuraRFID, Haven van Moerdijk, WSX Enterprise, Poole Harbour Commissioners, Portland Port Limited, Borough of Poole
Duration of project: January 01, 2019 - June 30, 2022
University of Antwerp Team: Prof. Dr. Johanna Vanderstraeten, Prof. Dr. Sascha Albers, Prof. Dr. Rudy Martens, Ms. Morane Atzmon (Researcher)
Contact person: Ms. Morane Atzmon
Project Lead: Antwerp Management School, Belgium
Project funding: European Regional Development Fund (ERDF)
* Interreg 2 Seas 2014-2020 is a European territorial cooperation program for England, France, the Netherlands and Belgium (Flanders)
The SPEED project aims to bridge the gap between the worlds the European ports and the nascent data science and IoT markets in Belgium, the Netherlands, the UK, and France by developing a thriving ecosystem driven by new smart port app development.
Overall project objective
The Smart Ports Entrepreneurial Ecosystem (SPEED) project aims to achieve the development of the conditions for a world leading smart ports innovation ecosystem. It plans to attain this goal by developing a widespread network converging both the community of (mostly SME) data science and IoT entrepreneurs and that of the European 2 Seas region port logistics.
The 2 Seas need to become more efficient and competitive
Recent estimations (AMS OBOR study, January 2017) revealed that 20% of North-Western European maritime trade flows are under risk of substitution by a Northbound land route starting from a new European hub in Piraeus and nearby Mediterranean ports, following substantial infrastructure investments by Chinese shippers and trade investors (Cosco, China Merchants Bank, Sinotrans, AIIB, …). With the upgrading of smaller ports and road infrastructure in the Balkans, cost-effectiveness ratios shift, and pressure is on the 2 Seas ports to become more efficient and innovative.
New data science and IoT entrepreneurs need to develop entrepreneurial capabilities
High-tech start-ups and small to medium-sized enterprises (SMEs) are leading the way in data science and IoT technological developments for smart ports. These entrepreneurs often encounter difficulties in their professionalization, limiting not only their own but also their innovation's full potential. Since SPEED aspires for the 2 Seas ports to take full advantage of data science and IoT technologies, it aims to support, connect and develop these high-tech entrepreneurs endeavoring for business success.
New opportunities (for real-time information flows)
Numerous opportunities exist for moving towards more efficient and effective port supply chains. Solutions are sought in the prediction and optimization of logistic and information flows in real-time between ports and their stakeholders. Within the SPEED project, two specific approached are pursued:
Large ports such as Antwerp, Rotterdam, and Calais, have already started building and operating shared data platforms
Through the use of incubation and acceleration programs, the ports look at ways to stimulate the adoption and development of smart port applications based on data science and IoT technologies.
Knowing that the data science and IoT communities are still underdeveloped markets, the key lies in aligning both the port and port stakeholder demands with the nascent high-tech market's capacities.
Approaching these challenges using 3 angles
It is vital that both sides of the market, the port logistic networks and their stakeholders, as well as the data science and IoT entrepreneurs, are functioning as efficiently and effectively as possible before fully converging both worlds into a leading ecosystem.
For this reason, SPEED approaches the previously mentioned challenges from 3 perspectives by building an open innovation ecosystem containing a smart port app development funnel, a network building system and an entrepreneurial success toolkit for diagnosis and value delivery aims. It will do so by;
Developing a cross-border network of data science and IoT experts, knowledge centers and port stakeholders to uncover logistic priorities across the 2 Seas regions. This network focuses specifically on the ports and their hinterland connections.
Connecting data science and port logistics

Enabling high-tech entrepreneurs to comprehend port logistic market demands
Guiding smart port solution developments through a joint strategic roadmap
Building preconditions for a world-leading smart ports ecosystem by way of a development funnel

Facilitating smart port entrepreneurs' professionalization and their adoption of smart port solutions through a toolkit focused on diagnosing the entrepreneurial business success and supporting improvement of value delivery. In this way, the project simultaneously enables entrepreneurs to create and capture value by gaining more self-awareness and clearly understanding the road to further professionalization, and also ensures value capture from the end user side by connecting ready and efficient parties on both ends.
Using its vast international business and entrepreneurship expertise, the University of Antwerp will specifically be focusing on this last action point, namely; the development of the toolkit for the high-technology entrepreneurs side.
Target results
The projects ambition is to empower the 2 Seas smart ports community to become a world leading innovation hub for the development of smart ports. It additionally intends to boost the operational excellence and technological sophistication of the 2 Seas port users, and finally aims to stimulate product development and adoption of cutting-edge technologies to boost economic development in the partaking regions.