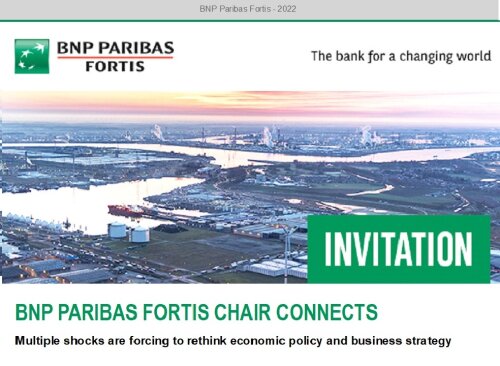 We sincerely hope that you are doing well and gladly invite you on Tuesday, June 21st at 15h00 to our BNP Paribas Fortis Chair Connects, because we finally can connect again!
BNP Paribas Fortis Chair Connects is a live sector networking event organised by BNP Paribas Fortis and the BNP Paribas Fortis Chair Transport, Logistics and Ports, hosted at the University of Antwerp.
Over the past two years, cyclical developments have been dominated by supply disruption (Covid-19) and supply shocks. Inflation has reached exceptionally high levels, weighing on household confidence and forcing central banks to act. More recently, the invasion of Ukraine has caused an additional supply shock as reflected in the huge jump in several commodity prices. As a consequence, the stagnation narrative has been gaining ground. The developments this year are forcing a rethink of economic policy, not only for central banks. But what does it ultimately mean for the companies, more specifically for outlining their business strategy?

​William De Vijlder, BNP Paribas Group Chief Economist, considers the consequences in terms of growth, inflation, distributional consequences for the central bank and governments as well as companies in general. Prof. dr. Christa Sys will further frame these findings for the maritime ecosystem. In the subsequent panel session, the discussion continues with high-level management representatives from the maritime and logistics ecosystem. Is your business strategy already being adjusted?

Tuesday June 21st | 15h00
Welcome by Prof. dr. Christa Sys, University of Antwerp
Keynote speech by William De Vijlder, BNP Paribas Group Chief Economist
Panel discussion with bank, academic and industry representatives
Q&A and wrap-up by Koen Ceyssens, Director Ports Practice BNP Paribas
17h00: Networking drink
​University of Antwerp - Stadscampus Prinsstraat 13 2000 Antwerpen Aula S.C.103 (building C) Route description
Press
​BNP Paribas Connect Event: "Betere rotatie enige oplossing congestie" - Flows
De nadruk ligt op werkkapitaal - FD magazine​
Blog

​Multiple shocks are forcing to rethink economic policy and business strategy