A lot of people adjust travel plans after infection numbers increase
July 14th 2020
Almost nine in ten participants in the Great Corona Study want to be vaccinated against COVID-19

Following the news reports over the past few days, one in three participants of the Great Corona Study says they will change their travel plans abroad. When it comes to complying to corona measures, Spain, Germany and Italy are the front runners in the eyes of Belgian holidaymakers.
Tuesday saw the fifteenth wave of the Great Corona Study, an initiative of the University of Antwerp, supported by UHasselt, KU Leuven and ULB. The Research Foundation Flanders (FWO) provides a financial boost. Around 27,500 people filled in the questionnaire this time.
'That's about 1,000 more than two weeks ago, and that in the middle of the summer holidays', Koen Pepermans, social scientist at UAntwerp, says. 'It is possible that the fact that the number of infections in our country has been rising slightly for a week plays a role. People realise that the virus is definitely not gone yet.'
Concerned about side effects
This time, the scientists asked questions about the participants' attitudes towards vaccination, obviously in light of the development of a COVID-19 vaccine.
'87.3% say they want to be vaccinated against the coronavirus', Jonas Crèvecoeur (KU Leuven) explains. '8% say they might do so, 4.7% say they will not be vaccinated.' Compared to other adult vaccinations, willingness to receive a COVID-19 vaccine is high among our respondents. The willingness to vaccinate children was also high on average: 88.9% will definitely have their children vaccinated, 4.1% might and 7% will not.

It is striking that the more difficult someone's financial situation, the greater their resistance to vaccination. On average, women are less likely and people aged over 66 more likely to get vaccinated. So the vast majority want to get vaccinated, but even within that group there are some doubts: 60.1% believe that new vaccines are riskier, 32.7% are concerned about possible side effects.
Netherlands scores less

The topic of holidays was also touched upon. Two weeks into the summer holidays, and about one in four respondents had already travelled abroad. 'Among other things, we asked them about their perception of compliance with the corona measures at their holiday destination', Prof. Thomas Neyens (UHasselt/KU Leuven) says. 'According to almost 60% of participants, the measures in Spain are much better respected than in Belgium. Germany and Italy also score better than our country, France scores average. The Netherlands and Austria are doing worse than Belgium, as perceived by Belgian holidaymakers.'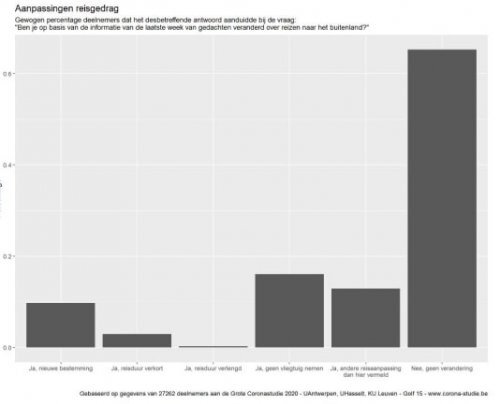 The increased number of infections in several places in Europe is affecting the travel plans abroad of quite a few respondents. Of those who have not yet travelled this summer, one in three says they will change their plans based on the information from the past week. They either don't travel by plane or choose a different destination. A small percentage plan to shorten their trip. Men and young adults (up to 35 years of age) are less likely to change their travel plans.
Appointment in two weeks
The Great Corona Study is organised every two weeks during the summer holidays. The next wave is scheduled for Tuesday 28 July between 10 a.m. and 10 p.m. (available in four languages).
www.corona-studie.be / www.etude-corona.be / www.corona-study.be / www.corona-befragung.be
Be sure to take a look at https://corona-studie.shinyapps.io/corona-studie/, a project by Jonas Crèvecoeur. Here you can find a comprehensive overview of the results of this study to date.