Mental well-being drops to lockdown level
October 22nd 2020
Quite a few participants in the Great Corona Study consider being present at work pointless
People in all sectors and all provinces have been feeling less good about themselves over the past two weeks. This was found in the Great Corona Study, which also revealed that the length of time between taking a corona test and getting the result is increasing.

Tuesday saw wave 22 of the Great Corona Study. Just under 22,000 people took part. That is almost 2,000 more than in the previous questionnaire: the worrying nature of the corona figures probably plays a role. The large-scale questionnaire is an initiative of UAntwerp, in cooperation with UHasselt, KU Leuven and ULB. The Research Foundation Flanders (FWO) provides a financial boost.
An initial analysis of the large amount of data – as is customary every two weeks – yields many interesting findings.
We're feeling less good about ourselves again. Mental well-being is going in the wrong direction in all population groups and all provinces; especially in participants working in education and health care. 'We are heading towards the lockdown level again, even before a possible new lockdown', Prof. Philippe Beutels (UAntwerp) says.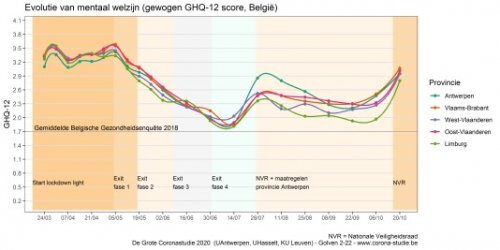 Participants in the Great Corona Study indicated three activities that they absolutely do not want to give up. Keeping primary schools open is mentioned by 33% of people, followed by being able to get together with friends (30%) and keeping one cuddle buddy (30%). Interestingly, activities such as going to a pub (7%), attending a concert or theatre play (6%) and going to a live sports event (2%) are not as high on the priority list.
The Great Corona Study also shows that the testing capacity is reaching its limits. The time between taking a test and getting the result is increasing everywhere. In Flanders, the delay is biggest in the provinces of Antwerp and Flemish Brabant. The delay is even bigger in Brussels and the Walloon provinces. Interestingly, participants with a less financially strong background have to wait longer for their results, which could be explained by the urban context in which they often live.
The Consultative Committee decided last week that teleworking would once again become the norm, unless there is no other option. However, about one in five participants who believe that they work in an unsafe workplace reports that they find their presence at the workplace pointless.