29/10/2021: Peter M Boenisch - When Attitudes Become Performed: Institutional Poetics in Contemporary Theatre
The Research Centre for Visual Poetics is honored to invite professor Peter Boenisch to give a lecture about his current research.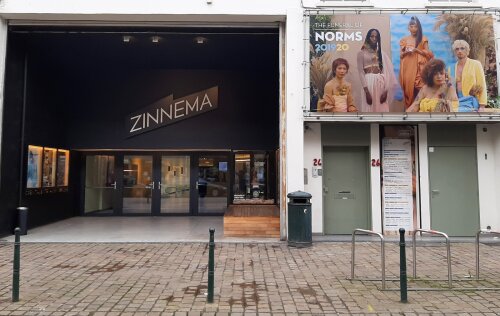 29 October 2021, 15h - 16h30, City Campus, University of Antwerp, Room S.R.001 (Entrance via Rodestraat 14, Antwerp)
​When Attitudes Become Performed: Institutional Poetics in Contemporary Theatre​

Whereas art studies and museology have developed, over several decades, elaborate methodologies to analyse and reflect on the institutional conditions that impact on the making of, and exhibition of, artworks in the visual art context, the field of theatre and performance studies has not yet developed a comparable approach towards 'reading the material theatre' (Knowles 2004). In this presentation, I outline for debate the perspective of 'Institutional Dramaturgy', which we are developing in our research project Reconfiguring Dramaturgy for a Global Culture: Changing Practices in 21st century European Theatre at Aarhus University. Discussing exemplarily the work of Zinnema in Brussels, and at Schauspiel Dortmund under its new artistic director Julia Wissert, I will reflect on methodological paths towards analysing institutional poetics as they catalyse the meaning of contemporary theatre and performance works in crucial ways.
Bio
Peter M. Boenisch is Professor of Dramaturgy at Aarhus University. His research areas are theatre direction, dramaturgy, and the intersections of theatre and politics, as they become manifest in aspects such as spectatorship, the institutional conditions of theatre production, and transcultural performance in a globalised Europe. At AU, he leads the research group "Paradigms of Dramaturgy: Arts, Institutions and the Social". His books include Directing Scenes and Senses: The Thinking of Regie (2015), The Theatre of Thomas Ostermeier (co-authored with the German director, 2016), and, as editor, the volume Littlewood – Strehler – Planchon in the series The Great European Stage Directors (with Clare Finburgh Delijani, 2018), the 30th anniversary edition of David Bradby and David Williams's Directors' Theatre (2019), and The Schaubühne Berlin under Thomas Ostermeier: Reinventing Realism (2020).