VP Invites @ DESINGEL: On Breath, Negativity and Blissful Imagination
Within the framework of the new performing arts festival CARTA 22 at the International Art Campus DESINGEL, Antwerp University's Research Centre for Visual Poetics will be arranging a new iteration of VP Invites. This series of seminars, lectures and artist talks will focus on 'Breath, Negativity, and Blissful fantasies.' The festival runs from 21 until 30 April and brings together cutting edge artists such as Wu Tsang, Dora García or Begüm Erciyas - all artists who develop their crafts by adopting dramaturgies on rhythms, breath, voice, and fantasies amidst the times of many endings. They are interdisciplinary works that challenge our understanding of previous realities, and in so doing they inch beyond the conventional understanding of aesthetics in performances. Franco 'Bifo' Berardi, Laura Cull, Bojana Cvejić, John O'Maoilearca and Milla Tiainen will teach seminars, give lectures and enter into conversation with the artists of the festival. The lectures and artist talks are open to the public. The seminars are directed at PhD, postdoc and artistic researchers and require registration. Please contact Kristof van Baarle for more information and registration.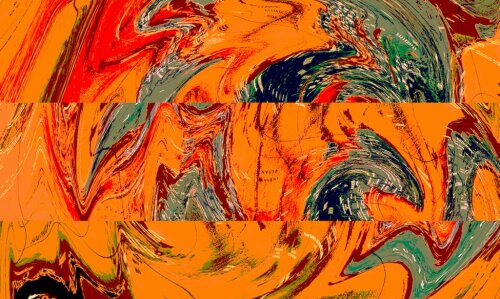 On Breath, Negativity and Blissful Fantasies
'I can't breathe' - this sentence has over the past years become charged with various interconnected meanings, ranging from the overwhelming pressure of neoliberal society, to deadly violence and racism, to the panic and pain caused by a new life-halting illness. Respiration is a subject that will help us dissect the condition of contemporary chaos in two ways. First, Franco 'Bifo' Berardi, the foremost theorist who writes on anti-capitalist politics and aesthetics argues, in Breathing: Chaos and Poetry, that the state of global information overload disrupts the local temporality and dismantles our social fabric. In poetic parlance, he asserts that due to the condition of neuro-totalitarianism, our rhythm of the 'mental time' becomes increasingly spasmodic ending in what we call 'panic'. Second, respiration is a crucial concept in the post-Covid world, a world that Berardi calls the 'implementation of capitalist nightmare' because even obtaining efficient oxygen is now fixed into the discourse of class struggle, social segregation, and hate speech against minorities. Knowingly or unknowingly, the network bubble consolidated through the multiple peer conversations during Covid accelerated to eradicate the inaudible voices, increased the amount of informational noise, and forced many of us into a mental whiteout: simultaneously benumbed and panicked in the durational pandemic.
Within this negativity, however, the artists who were deprived of their normality started to performatively fantasize about multivalent forms of gatherings, intimacies, and collective antidotes. All of a sudden, the pandemic has halted our automated normality and, in turn, reactivated the future as a space of possibilities. Giorgio Agamben affirms in Language and Death: The Place of Negativity, when we are forced to encounter death, or when we face 'the purely negative register of this being-for-death,' via negativa, our existence reaches its 'own most proper dwelling place and comprehend itself as a totality.' To use a phrase that describes visual and performance artist Wu Tsang, artists started to create and perform 'fantasies of intimacy in the face of adversity.' Taking all this as a theoretical basis, this series of seminars and lectures on Performance Studies will contemplate issues and topics that emerge from the intersection of breath, negativity, and blissful fantasies and how they are conceived of in both theory and artistic practices. We aim to foster an intense exchange on urgent theoretical and artistic topics, from the fields of philosophy, musicology, dramaturgy, and performance studies.
This is the program. Please check out the festival program as well, as most of the lectures and seminars are organized in correspondence to the performances.
21 April
Opening Lecture by Franco 'Bifo' Berardi: The Mental Collapse of the West
deSingel, 18h, Blauwe Foyer (Online, Livestreamed lecture).
In 1918 Sandor Ferenczi said that psychotherapy is not effective when it comes to collective pathologies. I will question this assertion.
What is the third psychosphere? What is the West? West, Future, and Russia. Futurism, Cosmism and the post-futurist rhythm. The present psychopathology and the exhaustion of the Future.
Franco 'Bifo' Berardi is a theorist and cultural agitator. He was the founder of Radio Alice in 1976. One of the most prominent members of radical Italian leftist movement Autonomia, Berardi worked closely with the French psychoanalyst Felix Guattari throughout the 1980s. His latest books in English are Futurability: The Age of Impotence and the Horizon of Possibility, Breathing: Chaos and Poetry and Third Unconscious: The Psycho-sphere in the Viral Age.
25 April
Seminar by John Ó Maoilearca: Performance and Time-travel
My seminar will discuss performance, time-travel, and memory. This will be with reference to the strange philosophy of Henri Bergson, the mystical ideas of his occultist and 'performance artist' sister, Mina Bergson (aka Moina Mathers), and different means by which we might 'supernormalise' exotica like time-travel, ghosts, as well as their supernatural/occult cousins, astral travel, skrying, invocation, etc.
deSingel 14h – 16h, Blauwe Foyer
Bio: I am Honorary Professor in the Department of Critical and Historical Studies at Kingston University, London. I have previously lectured in philosophy departments at the University of Sunderland, England, and the University of Dundee, Scotland. I have published twelve books, including (as author), Post-Continental Philosophy: An Outline (2006), Philosophy and the Moving Image: Refractions of Reality (2010), All Thoughts Are Equal: Laruelle and Nonhuman Philosophy (2015), and Vestiges of a Philosophy (forthcoming 2022). I work in the areas of Continental Philosophy (Bergson, Deleuze, Henry, Laruelle, Badiou), metaphysics (especially of time and identity), film philosophy, and metaphilosophy. I am currently working on ordinary forms of time-travel (so far with only modest success).
26 April
Seminar by Laura Cull: Performance Philosophy – Art and Imagination
deSingel 16h – 18h, Blauwe Foyer
Texts:
- Alexis Pauline Gumbs. Undrowned: Black Feminist Lessons from Marine Mammals: Preface (pp.1-2); Introduction (pp.5-14) and the Chapter on "Breath" (pp.21-27).
- Laura Cull Ó Maoilearca: "Done Dying: Thinking alongside every House has a Door." In Art Disarming Philosophy, edited by Steven Shakespeare, Niamh Malone and Gary Anderson. Performance Philosophy Series, Rowman and Littlefield, pp. 97-130.
Lecture and short film by Laura Cull Ó Maoilearca: Done Dying, thinking alongside Every House has a Door. Followed by an Artist Talk between Laura Cull and Dora García.
deSingel 20h – 21h30, Blauwe Foyer
This lecture is an invitation to consider 'bewilderment' and extends that invitation to 'think alongside' artworks. How to they (make us) think? This performative lecture, including the screening of a short film, proposes to create a mode of art-thought that allows to think non-standardly in relation to performance-making. Thinking alongside performances on extinction, this lecture is also a call for interspecies collaborations that qualitatively extend the human across new scales of space and time.
Bio: Prof. Dr. Laura Cull Ó Maoilearca is Lector and Head of DAS Graduate School at Academy of Theatre and Dance, Amsterdam University of the Arts in the Netherlands. Her current research includes the project, Performance Philosophy & Animals: Towards a Radical Equality – which began as an AHRC Leadership Fellows award and is now expanding into a long-term project that asks how performance can contribute to more ethical ways of knowing non-human animals in the entangled contexts of climate crisis and social inequality. Her forthcoming publications include Interspecies Performance (2022) co-edited with Flo Fitzgerald-Allsopp for Performance Research books. Previous books are: Deleuze and Performance (2009); Theatres of Immanence (2012); Encounters in Performance Philosophy (2014) and The Routledge Companion to Performance Philosophy (2020). Laura is also a core convener of the Performance Philosophy network and co-editor of its journal and book series.
28 April
Seminar by Milla Tiainen – Listening to More-than-Human Voices
deSingel 11h – 13h, Blauwe Foyer
20 Minute Lecture followed by an Artist Talk between Milla Tiainen and Begüm Erciyas - Ecological voice as aesthetic activism.
What music exists beyond the human? How can plants, other animals, ecosystems have a voice? In her lecture, musicologist Milla Tiainen discusses how artistic practices can give voice to ecological entities and issues. Listening can be an ecological act, the creation of an ecology of sound a form of aesthetic activism.
deSingel 16h – 17h, Blauwe Foyer
Bio: Milla Tiainen is a musicologist whose research and teaching relate to music performance studies and voice studies, new materialist and posthumanist theory, cultural and feminist musicology, and sensory studies. She is a Senior Lecturer in Musicology at the University of Turku, a Docent of Musicology at the University of Helsinki, and the chair of the Finnish Musicological Society. Her current research focuses on non-anthropocentric and ecocritical approaches to/in contemporary musical performance, transgender studies of music and voice, and methodological development of new materialisms and posthumanist thinking in the study of music and other arts. She is author of Locating the Composer (2005; in Finnish) and Becoming-Singer (2012). She is also co-editor of Reconfiguring Authorship in Music and Theatre (2005; in Finnish), Musical Encounters with Deleuze and Guattari (2017), and special issues for such journals as Body & Society (2014), Cultural Studies Review (2015), and The Polish Journal of Aesthetics (2020), among others. Her monograph on a process ontological, new materialist approach to operatic performance is under contract with the University of Minnesota Press.
30 April
Seminar by Bojana Cvejić – 'If you don't see me, I will burn myself'
deSingel 14h – 16h, Blauwe Foyer
Recognized in the 20th- and 21st-century history of political suicides as a radical act of protest and a spectacular expression of an intense experience of suffering, self-burning has returned since 2010 when Mohamed Bouazizi's act sparked protests in Tunisia. Its last wave in Europe includes those cases of self-incinerations in which the conditions for their political performativity are only partly fulfilled: the acts are public and communicate with the antagonist in the symbolic places of power, but their motivations aren't explicitly formulated as political. When self-annihilation is triggered by the basic needs and rights to maintain life, – such as unemployment, housing crisis, conflicts at work, and other forms of precarity, – means and ends with respect to life become indistinguishable. How can life be weaponized as a transindividual form of dissent if self-destruction also brings an end to desperation and suffering of the person? How are we to attend to irreperable acts of self-annihilation, which stand in dire contrast to contemporary practices of self-care, vitalist intensity and self-enhancement?
Text:
- Bojana Cvejić, "The Transindividual Act of Self-Burning" Performance Research 22(8), forthcoming.
Bio: Bojana Cvejić's work spans philosophy, performance practice and theory and dance. She studied musicology (BA, MA, University of Arts, Belgrade) and philosophy from which she received a PhD at Centre for Research in Modern European Philosophy in London. Cvejić has made more than twenty theater and dance performances since 1996 as (co)director (five experimental opera stagings, performances with Jan Ritsema) or dramaturg (in choreographies by among others Xavier Le Roy, Eszter Salamon, Mette Ingvartsen, Anne Teresa De Keersmaeker). She teaches at contemporary dance school P.A.R.T.S. in Brussels since 2002, and is Professor of Dance and Dance Theory at the Oslo National Academy of the Arts KHIO since 2017 and Guest Professor of Philosophy of Art at FMK Belgrade since 2016. Cvejić is author of several books, most recently Choreographing Problems: Expressive Concepts in Contemporary Dance and Performance (Palgrave Macmillan, 2015), and Toward a Transindividual Self: A Study in Social Dramaturgy (with Ana Vujanovic, published by Sarma, Oslo National Academy of the Arts and Multimedijalni Institut, 2022).

29/10/2021: Peter M Boenisch - When Attitudes Become Performed: Institutional Poetics in Contemporary Theatre

The Research Centre for Visual Poetics is honored to invite professor Peter Boenisch to give a lecture about his current research.

29 October 2021, 15h - 16h30, City Campus, University of Antwerp, Room S.R.001 (Entrance via Rodestraat 14, Antwerp)

​When Attitudes Become Performed: Institutional Poetics in Contemporary Theatre​


Whereas art studies and museology have developed, over several decades, elaborate methodologies to analyse and reflect on the institutional conditions that impact on the making of, and exhibition of, artworks in the visual art context, the field of theatre and performance studies has not yet developed a comparable approach towards 'reading the material theatre' (Knowles 2004). In this presentation, I outline for debate the perspective of 'Institutional Dramaturgy', which we are developing in our research project Reconfiguring Dramaturgy for a Global Culture: Changing Practices in 21st century European Theatre at Aarhus University. Discussing exemplarily the work of Zinnema in Brussels, and at Schauspiel Dortmund under its new artistic director Julia Wissert, I will reflect on methodological paths towards analysing institutional poetics as they catalyse the meaning of contemporary theatre and performance works in crucial ways.

Bio

Peter M. Boenisch is Professor of Dramaturgy at Aarhus University. His research areas are theatre direction, dramaturgy, and the intersections of theatre and politics, as they become manifest in aspects such as spectatorship, the institutional conditions of theatre production, and transcultural performance in a globalised Europe. At AU, he leads the research group "Paradigms of Dramaturgy: Arts, Institutions and the Social". His books include Directing Scenes and Senses: The Thinking of Regie (2015), The Theatre of Thomas Ostermeier (co-authored with the German director, 2016), and, as editor, the volume Littlewood – Strehler – Planchon in the series The Great European Stage Directors (with Clare Finburgh Delijani, 2018), the 30th anniversary edition of David Bradby and David Williams's Directors' Theatre (2019), and The Schaubühne Berlin under Thomas Ostermeier: Reinventing Realism (2020).