Consultancy, training and research on accessible media and culture
Looking for expertise on how to make media and culture accessible? As a company, government or non-profit organisation, you can contact the OPEN Expertise centre for advice, customised training and contract research. Together, we look at how we can make your media product or (cultural) event more accessible through, for example, (live) subtitling, audio description, audio subtitling or sign language interpretation.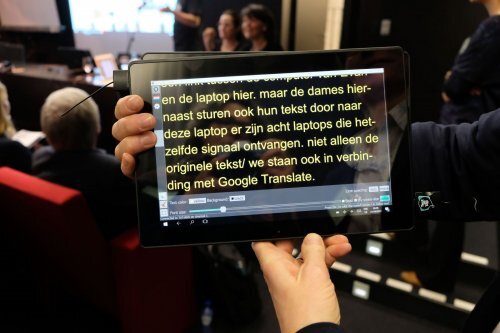 Media and culture for everyone
Developing inclusive products and services that are accessible to all, with or without disabilities, is high on the agenda today. New European regulation encourages industry, media and culture to promote accessibility, in particular (digital) media products, performances and events. However, this evolution is very fragmented. Moreover, the (technological) innovations in this domain follow each other in rapid succession.
How do you start? And how do you find your way in the different technological solutions?
OPEN is a point of contact for all questions about accessibility. We offer expertise in (live) subtitling with respeaking, subtitling for the deaf and hard of hearing, audio description, audio subtitling and accessibility management and through our extensive network within the sector, we can also refer you to other domains, such as sign language interpreting or writing interpreting. For all these services, you can contact OPEN for advice, customised training and contract research.
What are our services?
Based on our own expertise and in consultation with domestic and foreign experts in the field, OPEN offers tailor-made advice.
We describe how the service in question works, provide background information on relevant research and guidelines, discuss what its implementation entails, how to monitor quality and which service providers to turn to in order to realise your accessibility project. A tailor-made quotation can be developed according to the needs of your company/organisation.
The Expertise centre has already organised several workshops. For example about audio description, (live) subtitling, accessibility management and teaching media and cultural accessibility.
OPEN offers tailor-made workshops for language, translation and communication companies that want to train their team in the above areas. These in-house workshops are practical and respond to the specific needs and translation experience of the participants.
Innovation through research
OPEN works together with the research group TricS, which has years of experience in the field of research into audiovisual translation and media accessibility, through PhDs, European research projects, conferences and workshops. OPEN can make a substantive contribution to the research projects of companies and organisations in the field of accessibility, especially in areas such as audio description, subtitling, surtitling, subtitling and surtitling for the deaf and hard of hearing, live subtitling with respeaking, and can act as an applicant in joint research projects in this field.
Who are our services for?
Because accessible media products and events are covered in every sector, various organisations and companies can turn to OPEN. OPEN works together with government institutions, media and cultural institutions, event organisers, universities and language and translation services, for example.
If it concerns a subject in which OPEN itself has not yet built up the necessary expertise, it refers organisations to the experts in the field within its network.
Who are we?
OPEN is an initiative of the Faculty of Arts and Philosophy of the University of Antwerp. The centre can count on the expertise of TricS, the research group of the Department of Applied Linguistics, Translators and Interpreters, which has been researching the accessibility of media and culture in Flanders and beyond for years (see: www.uantwerpen.be/trics).
TricS can count not only on international partners within the academic world, but also on an extensive network of domestic and foreign stakeholders. OPEN wants to further stimulate this cooperation and open up to other actors with complementary expertise in order to contribute to a broad, intersectoral cooperation on accessibility.
More information
University of Antwerp
Valorisation Office
Middelheimlaan 1
2020 Antwerpen
T +32 3 265 88 69