With the search box on the library's home page you are using the Discovery Service, a search engine that allows you to search most of the library's resources in one go. A bit like Google, but instead of searching the entire internet, you are consulting the library's collection. The perfect way to quickly find literature on a subject.
If you launch a search in the Discovery Service, you may find:
- Books and journals from the catalogue
- Articles and other content from databases
- Publications of UAntwerp researchers from the Institutional Repository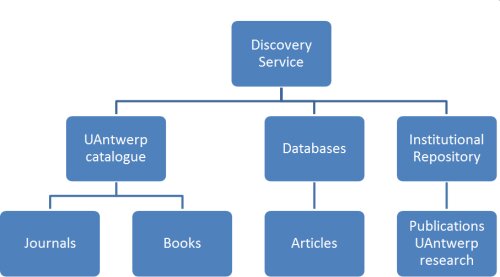 As you can see, the Discovery Service is a lot broader than our catalogue. The latter only contains data on the general level of books and journals and is limited to our own collection (or that of associated libraries).
Of course you can consult the catalogue, the databases and the Institutional Repository all separately as well. Then you have more specialized search options than in the Discovery Service.
How to search UAntwerp Discovery service?
You can do a simple search (that is: one search bar with a Keyword, Title or Author field) or an advanced search (that is: multiple search bars with more fields to choose from). In the search bar you can enter your search term(s).
You can combine search terms in various ways (AND, OR, NOT)
You can make use of a *. For example : an*sthes* = anaesthesia, anesthesiology, anesthesia...
In the results screen, you can refine your search results using filters on the left. Filter options include:
Full text: only results that are available online to the UAntwerp.
Location: by selecting UAntwerp, you'll see descriptions from the UAntwerp catalogue.
language
publication date
topic
Publication type
...

With each result, you'll always find information about the availability of that item:

Sometimes the full text (pdf, html or Open Access) is included.
Sometimes you can click on the blue UAntwerp button to check for the full text.
For books or journals in the catalogue, you can retrieve the full catalogue record.
Databases included in the Discovery Service
The following databases from the overview of databases are also included in the Discovery Service:
Art and architecture complete
ArXiv
Avery index to architectural periodicals
BioOne
Business source premier
Cogprints: cognitive sciences eprint archive
Communication Abstracts
Communication and mass media complete
DigiZeitschriften
Encyclopædia Britannica online
ERIC
Greenfile
HeinOnline
Historical abstracts
Humanities abstracts
International Bibliography of Theatre and Dance
JSTOR
LexisNexis Academic
Library, information science and technology abstracts
Medline
OECD iLibrary
Oxford Bibliographies
Project Muse
Regional business news
ScienceDirect
Urban studies abstracts
Web of Science
Note that some databases from the overview of databases are not included in the Discovery Service.
On the other hand, the Discovery Service also includes some databases you will not find in the overview of databases. These are free databases:
Directory of Open Access Journals
Energy Citations Database
Government Printing Office Catalog
Manuscriptorium Digital Library
OAPEN Library
Persée
PhilSci Archive
Publisher Provided Full Text Searching File
RAMBI
Research Starters
SciTech Connect
SOLIS - Sozialwissenschaftliche Literatur
SSOAR – Social Science Open Access Repository
When to use the Discovery Service
The Discovery Service allows you to search through the entire library collection. This is ideal when searching for a specific subject or in the case of multidisciplinary research.
If you are looking for a specific book or journal title, we recommend that you use the catalogue.
The search options of the Discovery Service are rather limited though. Specialized bibliographic databases in your discipline (for example: Medline, Sociological Abstracts, MLA, ...) provide more advanced search options and cannot be replaced by the Discovery Service when conducting serious literature reviews.